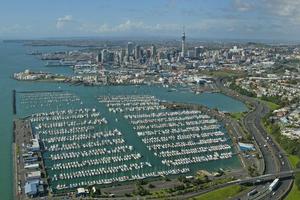 Auckland officials have approved $1.65 million of ratepayer-funded projects for the Rugby World Cup - including a $120,000 clock counting down to the tournament.
The clock will be unveiled in Auckland in September as part of celebrations marking a year to go to the opening ceremony.
It has divided opinion on Auckland City Council, with one member labelling it an "expensive gimmick" and Mayor John Banks describing it as part of vital "hoopla".
Other projects approved by the council's arts culture and recreation committee include turning parts of Westhaven Marina into campervan sites and putting up 130 poles for cup-themed banners.
Committee chairman Greg Moyle said countdown clocks were common at major events overseas and the money would be well spent.
"We're trying to create a legacy so these things can be used more than once," Moyle said.
But City Vision councillor Cathy Casey said it was "an expensive gimmick that has no life beyond the Rugby World Cup".
"Maybe we should hold a competition to see what you could do with a used countdown clock."
Banks, who does not sit on the committee, said the clock would bring a sense of urgency to preparations for the competition.
"There needs to be a certain amount of hoopla, affordable hoopla, around this event."
The council said almost 5500 passengers would sail into Auckland on three official World Cup cruise ships for the final stages of the tournament.
This week's spending will come from the council's $9.8m budget to support World Cup projects.
The poles, costing $344,000, will go up along walking and transport routes. The cup-themed banners attached to them will be funded through a separate regional budget.
Four interactive touch-screens to help visitors find their way around will be installed for $220,000 and $300,000 will go towards upgrading the Karangahape Rd overbridge.
At Westhaven, $670,000 will be spent upgrading toilet blocks, installing a waste dump station and resurfacing carparks, allowing 100 campervans to park near piers J and Z.
Consultation with users of the council-owned marina will go ahead now funding has been approved.
Richmond Yacht Club commodore Rodney Janes said the campervan plan would make parking tight on race days, particularly near Pier Z, where boaties with trailer-sailers launched and parked.
The council had previously approved a $3.74m upgrade for Western Springs park, which will be used as a training venue by Samoa and Tonga.
Other "tentative" allocations include $2m for Queens Wharf (site of the controversial Party Central project) and $1.65m for a big screen in Aotea Square.
Casey said scant detail was provided on the plans. "It seems like if it's got a rugby ball attached to it, money just flows in that direction."