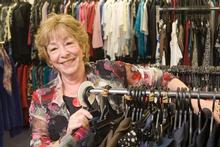 As a volunteer for Auckland's Dress for Success, Louise Boswell has worked in every role the organisation offers.
She is a personal dresser for clients and team leader for the group that sources new clothes, shoes, bags, make-up and jewellery for clients.
She sorts, washes, steams, irons and donates clothes, gives talks to businesses and organisations about Dress for Success, picks up donations from collection points around the city and the region and helps with fundraising.
Claire Donaldson, the volunteer and programme co-ordinator for Dress for Success Auckland, says Ms Boswell is the volunteer you would love to clone.
"She's the first one to put up her hand to help with anything and is often the last one there when something needs to be completed."
Ms Donaldson nominated Ms Boswell for the Herald's Unsung Heroes series, which celebrates the work people do in their community. Five nominees will be chosen at the end of the series for a P&O Cruise.
Ms Boswell began her work with the non-profit organisation in 2006 because the part-time business she runs from home, in office administration and telemarketing, wasn't keeping her busy enough.
Dress for Success appealed because it provided clothes, accessories and advice for women starting or returning to the workforce.
Ms Boswell spends on average four to five hours a week sourcing the merchandise required, but some weeks are more demanding than others.
Last week she spent double that time on the phone finding cosmetics.
"That's the one thing that we need the most of," says Ms Donaldson.
Clothing for women at both ends of the size range can also pose problems.
The clothes and accessories supplied by Dress for Success are not just worn for interviews, they can also be adapted for day-to-day business situations, says Ms Donaldson.
"But some of the clothes we are given are just not suitable, such as ballgowns and jeans."
As the organisation receives no Government funding, fundraising is vital for survival.
"Louise will keep searching and very politely asking until we have what we need."
Dress for Success, which started in New Zealand in 1999, now uses 113 volunteers in Auckland to service more than 1100 clients a year.
Ms Donaldson has nothing but praise for Louise Boswell. "She is a jack of all trades and a master of all."
By Phoebe Falconer

Email

Phoebe
The Unsung Community Heroes series is run annually in the The Herald and on nzherald.co.nz in partnership with P&O Cruises. We invited nominations from readers to recognise people who selflessly work to make a difference in their local communities.

Some will be selected to feature in the paper and on nzherald.co.nz. Five will be chosen to join a P&O winter cruise.