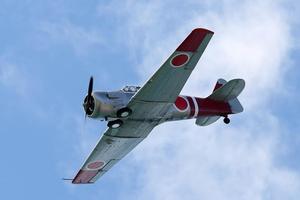 Thousands of people flocked to Auckland's Mission Bay today to watch a number of mock explosions in a re-enactment of a World War 2 dogfight.
Crowds lined the streets and the beach to watch two Japanese fighter planes take on a New Zealand Kittyhawk. The sky was clear for the many people snapping photographs below.
The dogfight was staged to promote TV One's new mini-series The Pacific, which screens tomorrow at 8.30pm.
Appropriate authorities had been involved in the planning of the explosions, said TVNZ spokeswoman Megan Richards.
The dogfight was organised by the same people who manage the Warbirds over Wanaka air show, she said.
- NZPA