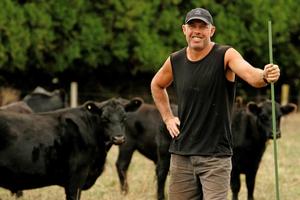 Tiger Woods' Kiwi caddie travelled to Las Vegas with the golfer, but says he never took part in the high-stakes gambling sessions or met the world No 1's mistress there.
In an exclusive interview with the Herald on Sunday, Aucklander Steve Williams has opened up about his close relationship with Woods, revealing details of post-tournament drinking sessions with the golfer.
At home on his West Auckland lifestyle block, the caddie gave the interview before flying to the United States last night to join Woods.
They are preparing for a return to golf at the Masters in Augusta next week.
Williams said the two would knock back a few drinks after tournaments and compete over the most mundane things.
"Yeah. Even in that environment things can be competitive," he said. "We might have a competition to see who can eat the most steak, or who can eat the most potatoes."
He laughed, and added: "If there is something we can have a competition with, we will."
In fact, Williams and his wife Kirsty were close friends of Woods and his estranged wife Elin. Williams said Tiger told him to marry Kirsty.
But while Woods tees off with Williams at Augusta, Elin will reportedly return home to Sweden to be with family.
Instead Joslyn James (also known as Veronica Siwik-Daniels), one of the golfer's mistresses, plans to attend the golf tournament before performing at the Pink Pony strip club in nearby Atlanta.
Williams hit back at James' claims that she met him at nightclubs twice.
"I have never met this woman, ever," he said.
"Her comment that she met me in two separate nightclubs is totally false.
"I have never been in a nightclub with Tiger and I have only ever been to Vegas once while working for Tiger. And that was for a Tiger fundraising event. So I have no idea who she is.
"I don't need to put my hand on my heart. I am a stand-up person."
The new issue of American magazine Vanity Fair reports that Woods' inner circle of friends (it names Bryon Bell and agent Mark Steinberg) helped arrange his meetings with various mistresses, or cover up when the tabloid media got too close to revealing details.
But Williams said he knew nothing of that.
"I am a straight-up person. I tell it like it is and if I had any inkling of something funny going on, I'd be the first person to question what was happening."
During tomorrow's press conference at Augusta Woods is certain to be asked to expand on a statement he made in a Golf Channel interview two weeks ago.
Asked whether members of his "inner circle" were involved, he said: "It was all me. I'm the one who did it. I'm the one who acted the way I acted. No one knew what was going on when it was going on. I'm sure if more people would have known in my inner circle, they would have stopped it or tried to put a stop to it. But I kept it all to myself."
When in Vegas, Woods reportedly stayed in the Mansion at the MGM Grand, where a one-bedroom suite costs US$5000 ($7000) a night.
With basketball legends Michael Jordan and Charles Barkley, he would gamble up to $30,000 a hand in splits and doubles in the ultra-exclusive VIP casino nearby.
Williams told the Herald on Sunday: "I have never gambled in my life so I don't go to casinos. I won't comment on Tiger."
The caddie has spent the past four months back in New Zealand, racing in speedway meets up and down the North Island or relaxing at home with his cattle.
Now, he and Woods must get their heads in the right space for one of the golf world's top tournaments. Williams said both would be nervous. "I am beside him more than anyone," Williams said.
"Being able to read someone's mind, being able to extract the best out of that person ... it's like the coach of a team. But with a caddie, you are actually on the playing field."
After the tournament, the two will have plenty to discuss - perhaps over a beer and a steak.
Woods may score in the casino and nightclubs, but Williams will win the steak-eating competition.
"Yeah, I can put a bit of steak away," he grinned.
Heatley role at Masters
Kiwi millionaire Craig Heatley is using his experience as founder of Sky TV in New Zealand to help Augusta National Golf Club keep the media at bay at this year's Masters.
Heatley chairs Augusta's media committee.
Caddie Steve Williams said: "The one great thing about this tournament is that, unlike any other tournament in the world, the media are not allowed on the course inside the ropes."
Heatley was the only New Zealand member at Augusta, Williams said, and "very passionate" about golf.
"He has a good business mind so they have involved him in the tournament."