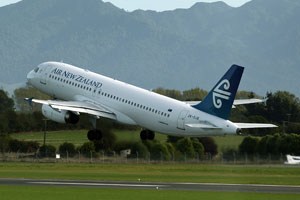 You're better off booking your transtasman flight on Air New Zealand's website from the other side of the ditch.
Auckland man Bernie Reeves went to book flights from Sydney to Auckland return this week but found it was cheaper to use Air New Zealand's Australian website.
Although he lives in Auckland, Mr Reeves said he often booked flights on behalf of family and friends who were overseas.
Once the exchange rate had been factored into the flight cost, Mr Reeves found that he would have saved$65.94.
A frequent traveller, he said he was stunned to learn there was a difference.
"It's a case of where to book it.
"And in this particular case they would have been better to book it through the Australian website rather than the New Zealand website. It's the same plane, the same time, the same date, the same class ...
everything. It's a bit bizarre. This was apples compared with apples."
Mr Reeves said he did not finalise the booking as he was "only looking at options" but in future he would cross-check each airline's websites.
"Usually I shop around between airlines but this is the first time we've seen a discrepancy on different websites for the same airline. It pays to check both ends to find out what is the best way to pay."
Consumer NZ adviser Maggie Edwards said there were no rules that required airlines to streamline the prices they charged in different countries, even on the online domain.
"They can charge what they think the market will stand, they don't have to have a consistent policy."
Ms Edwards said New Zealand was a "relatively captive" market so it could be expected that the company could charge more.
"That's competition," she said.
"It can be more expensive to book flights from New Zealand to anywhere else because there's only a certain number of flights.
"That's fine, because also, on the same flight people pay different prices, they have different fares."
Air New Zealand spokeswoman Tracy Mills said fares were not identical in every market because they were influenced by factors including demand, the seasons, market activity, promotional campaigns and exchange rates.
She encouraged customers to book ahead to get the best prices.
WHAT YOU PAY
Sydney to Auckland return
* $574.30 on www.airnewzealand.co.nz
* $508.36 on www.airnewzealand.com.au (A$389.40)