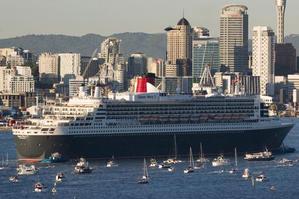 Kiwis with an eye for luxury liners will have their chance to view the largest cruise ship ever to visit New Zealand when the Queen Mary 2 docks in Auckland tomorrow morning.
The luxury transatlantic liner will pass through the Waitemata Harbour and is expected to arrive alongside the Jellicoe Wharf at 6:30am.
The Queen Mary 2 is expected to bring up to 2700 passengers and crew on its third visit to New Zealand. It is scheduled to leave Auckland at 8pm tomorrow.
* Ports of Auckland's recommended viewing locations:
From 5:15 am:
• Areas along the east cost of the North Shore as the ship rounds Rangitoto Island
Between 5:30am and 6:30am
• Ports of Auckland public walkway alongside the Fergusson container terminal (no parking available)
• Fred Ambler Lookout, Gladstone Road, Parnell
• Mt Victoria, North Head and Devonport Wharf on the North Shore
• East Coast Bays beaches
- NZ HERALD ONLINE