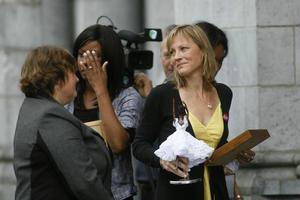 Hundreds have gathered in Nelson to remember and farewell a NZ woman's husband and two daughters killed in the Haitian earthquake.
In a ceremony full of music, Emily Sanson-Rejouis told mourners how she felt defeated by life and heartbroken over the death of her husband Emmanuel and daughters Kofie-Jade, 5, and Zenzie, 3.
However she said she had to go on for her surviving daughter and "miracle", two-year-old Alyahna.
The service heard that Emmanuel had given his life to save Alyahna when the hotel in Port-au-Prince where they were staying collapsed.
The service heard how Emily Sanson-Rejouis had used her own hands and persuaded a group of young men to help her in saving the lives of three people, including Alyahna.
Emily's father Roger Sanson said Emily's actions ensured that Alyahna had not only survived but that she survives to be "healthy and whole".
She and those helping her had saved the three lives in circumstances where search and rescue teams considered it too difficult and perilous, Mr Sanson said.
"How you managed to do what you did on the night and next day most of us will never know."
Emily, in a message to her late husband, said "I pledge to you that, as you would have wanted, that I find the strength to rise like a phoenix from the ashes. I will not give up.
"Know the last thing we did together was to save Alyahna."
Mr Rejouis' family called him a hero for forsaking his life so that Alyahna could live.