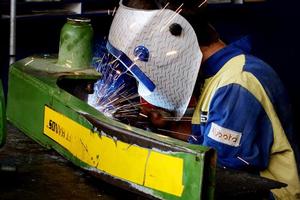 After almost four years of hard work, Mike McFarlane will qualify as a heavy diesel engineer next month.
The 20-year-old, who works for Giltrap Farm Machinery in Otorohanga, is one of New Zealand's 12,933 "modern apprentices" - a tiny 3.7 per cent of the 348,000 young people in the target 16 to 21 age group.
Like most other modern apprentices, he is Pakeha and male. A scheme that was meant to overcome two decades of skill shortages in a nation shamed by ethnic discrepancies has become what the OECD has called "a prestige programme mostly attended by young males of European origin".
Even McFarlane would not have got through if he had been left in a busy workplace with one visit every three months from an often-distant co-ordinator.
He is one of a lucky handful who has had face-to-face support through a local scheme run by former automotive engineer Ray Haley for the Otorohanga District Council, Waikato Institute of Technology (Wintec) and local businesses.
Every Wednesday night, McFarlane has turned up at the scheme's trade training centre, where Haley stands by to help as apprentices fill in their correspondence workbooks.
"Ray helps us out with anything we're stuck with, technical stuff. He's got quite a bit of knowledge," McFarlane says.
Haley also provides an environment where young people who prefer to work with their hands can see their mates studying. Karl Thurston, 21, an automotive apprentice from Te Kuiti, says: "You get sick of thinking a bit, I guess. It [the night class] helps you out, you're kind of set straight."
WHY WE NEED APPRENTICESHIPS
New Zealand desperately needs young people with trade skills. When the economy was growing strongly from 2004 to 2008, more than one-fifth of employers said a shortage of skilled labour was the main factor constraining their growth.
The old apprenticeship system was almost snuffed out in the 1990s when training was left to the free market. The number of fitters and turners aged 20 to 24 plunged from 1150 in 1991 to just 200 in 2001.
Yet even through the good times, from 2004 to 2008, a steady 7 per cent or so of young people aged 15 to 24 were not in employment, education, training or caregiving - apparently sitting at home doing nothing.
That number jumped in the recession to 10.2 per cent of Pakeha, 14.8 per cent of Pacific youth and an alarming 20.4 per cent of Maori by the end of last year.
HOW IT WORKS

Modern apprenticeships were created 10 years ago to fill the training gap for young unskilled people. Unlike the old time-based apprenticeships, they require passing skill-based unit standards at each individual's pace.
The Tertiary Education Commission (TEC) pays up to $2200 a year for a co-ordinator to visit each apprentice once every three months to check on their progress and provide "pastoral care".
Most co-ordinators work for industry training organisations which contract with polytechnics for the book work, and with employers for the hands-on tasks.
Other co-ordinators work for polytechnics , private training providers or local trusts or individuals.
There is also a fee which can range from about $850 up to $4500 a year. In Otorohanga most employers pay this, but some apprentices pay half or all.
THE PROBLEM
Most modern apprentices are in building trades (19 per cent), motor trades (14 per cent) and engineering (12 per cent). That industry pattern is the main reason why 88 per cent are male.
But the uptake has been patchy, ranging from 11.5 per cent of 16- to 21-year-olds in the West Coast's rural Grey District down to barely a tenth of that in the two big cities at the bottom - just 1.3 per cent in Manukau and 1.2 per cent in Christchurch.
The scheme is failing to reach young Maori and especially Pacific people.
Many who start drop out. Only 41 per cent of Pakeha, 34 per cent of Pacific people and 27 per cent of Maori who started apprenticeships in 2002 completed them within six years.
THE DIAGNOSIS
The Mayors Taskforce for Jobs, in a new report, argues that many apprentices drop out because they don't have the kind of face-to-face support that Haley provides in Otorohanga.
"Co-ordinators are often recruited and described as having strong industry experience but that doesn't necessarily translate into the specialised skill base required to 'mentor' young people," the taskforce says.
Otorohanga Mayor and taskforce chairman Dale Williams says apprentices need help not just with their book work but with personal issues such as relationships and finance.
Williams, a former motorbike mechanic, says that is no different from when he was an apprentice, from 1979-82. But today's young men are more likely to come from sole-parent families with no male role models, and work in companies that have been cut to the bone.
"When I started we had a foreman, who was an older guy who looked after the apprentices," he says.
"Now there's no older guy who wanders round holding the hands of the apprentices."
LIFTING THE TAKE-UP RATE
The taskforce recommends giving co-ordinators incentives to recruit and support under-represented groups.
This is not as easy as it sounds. Even in Otorohanga, where a third of the district's teenagers are Maori, all of Haley's 54 apprentices are male and only 9 per cent so far have been Maori.
The taskforce cites a co-ordinator at the Wellington Institute of Technology (Weltec), Belinda Weepu, as another model. She has signed up Weltec's first two female apprentices, and nine of her 26 apprentices (35 per cent) are Maori or Pacific.
She's Samoan, married to a Maori, and was born, bred and still lives in Wainuiomata. She regularly visits apprentices who struggle with written English, quoting one young father who lives nearby.
"Often after his church on Sundays he pops over to my house and sits at my kitchen table and sits an exam there," she says.
She has been helping another young man to find a flat, and tracked down another who had gone back to his family in Whakatane after doing a pre-trade panelbeating course at Weltec.
"His tutor said, 'I have a possible job for him but I can't get hold of him.'
"I contacted the family, they came down from Whakatane with him, and we went to the interview together.
"Both the employers said, 'We see that you love your son enough to drive him all the way down from Whakatane, that's really nice for us to see.' And they know that when the family's back in Whakatane, I'm also going to be there for him in support."
But she says the biggest obstacle to an apprenticeship for many families is the cost. Fees - often $2000 to $3000 a year - scare people away.
"From the employer's perspective, that's a very real reason not to take on an apprentice - not only are there employee costs, on top of that to have to pay for their training is an ask."
In Northland and Gisborne, which have the highest numbers of apprentices per head of the relevant age group in the North Island, this barrier is partly overcome with iwi support.
Kaikohe's Northland College has had a "trades academy" since 2006 where tutors and a work broker are employed on the school site by an iwi-based trust, Te Rau Marama.
Kickstarted by the Tindall Foundation, the academy now earns its own income by building a house each year for Housing NZ.
The course runs from October to the following October, so trainees emerge just when builders need extra staff for the summer.
In most years four or five out of six graduates have got apprenticeships, although that dropped to three last year in the recession.
Whangarei-based apprenticeship co-ordinator Neil Parkes says another factor in Northland's success is that he is one of only two co-ordinators nationally who are independent of both industry training organisations (ITOs) and training institutes.
"We have very good support from the apprentices and employers and fight the battles on their behalf, whether it's with the ITOs or with the off-job trainers," he says.
"The other reason is that in Whangarei everyone knows everyone. Most of the company owners are tradesmen themselves, so I play on that sympathy and I've had tremendous support from the local companies."
LIFTING SUCCESS RATES
ITOs say the drop-out rate for those who actually start apprenticeships is not quite as bad as it looks, because many of those who drop out actually carry on later with a new employer.
"About 20 per cent of the ITO non-completions are due to moving employment," says Industry Training Federation director Jeremy Baker.
The low completion rates are also partly because an "apprenticeship" is still a new concept in sectors such as farming. Baker says all ITOs want higher completion rates. He supports a taskforce proposal to link funding to outcomes, and notes that Australia pays employers A$2500 ($3200) for every apprenticeship completed. He advocates bringing all apprenticeship co-ordinators under the ITOs.
By contrast, the taskforce sees the ITOs as too distant and wants a percentage of co-ordinator contracts reserved for local initiatives.
It also suggests selecting co-ordinators to be good mentors, funding study nights and other support, and looking at raising the maximum age from 21 to 25 to reach school dropouts who take some years to come back into training.
NEXT STEP
STEC policy director Susan Shipley says her agency is finalising a study on the success factors for modern apprenticeship co-ordinators and is reviewing the whole industry training policy to fit the government's revised tertiary strategy.
She rejects reserving any co-ordinator positions for local initiatives, but welcomes the taskforce's emphasis on tying funds to actual apprenticeship completions.
"The tertiary education strategy calls for a focus on raising performance and completion rates across tertiary education," she says.
"This includes modern apprenticeships, and it could be that the recommendations of the report could be best encouraged through the introduction of clear performance-linked funding into the industry training and modern apprenticeship systems."
www.mayorstaskforceforjobs.co.nz
www.modern-apprenticeships.govt.nz