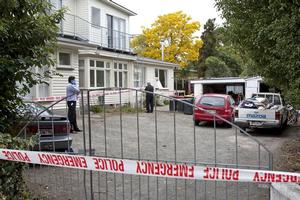 Christchurch police last night placed a guard on a 10-bedroom, two-storey house after the discovery of a baby's body.
Police would say little other than to confirm that the infant found dead at the Sydenham property was either newborn or very young.
The house's dozen residents were sent to motels.
Detective Inspector Tom Fitzgerald said an inquiry had begun into the age of the child and the circumstances surrounding the death.
Neighbours said up to 12 boarders lived in the Hornbrook St house, and the landlord occupied a ground-floor flat.
They said there were regular noise issues with the house and there were problems the previous evening.
Police talked to the boarders as they returned home yesterday, advising them that they would have to stay elsewhere while a forensic examination was carried out.
The baby's body was removed from the property in the afternoon.
One of the neighbours to the property, Lynne Grafton, said she first noticed police there about 10.30am.
She said her daughter saw what she thought was blood on jeans or other material at the house.
The property was a bedsit where people would often come and go, Ms Grafton said.
There were often arguments there at the weekends.
"But you get used to it."
She said the thought of such an incident happening so close to her home was scary.