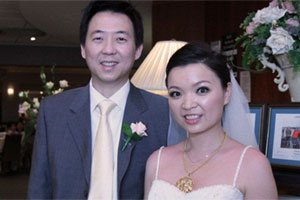 Many Chinese couples are rushing to get married before the start of the Year of the Tiger, to avoid any misfortune associated with the inauspicious year.
The Year of the Tiger begins on February 14, and many who do wed before then will wait until 2011 to have a baby.
Fortune teller Peter Chan, who is also a Waitakere City councillor, said this Tiger year was considered really bad because of the absence of spring, or Lichun.
Chinese New Year, which is based on the lunar calendar, falls after the first day of spring in China and ends on February 2 next year, which is before the next Lichun.
A year without spring is also known as a "widow year" or a "blind year".
"It is a very bad year for marriages and it is possible that the relationship of those who get married in the Tiger year to be full of turmoil and trouble," said Mr Chan, originally from Hong Kong.
But Mr Chan, who has been fortune-telling at the Auckland lantern festival for 12 years, said although the sign might not be a good one for girls, it was a "great one" for boys.
"The Chinese expect girls to be demure but it is okay for boys to be bossy and fierce.
"People who are born under the Tiger sign are believed to also be fearless and a fighter, and these are very good traits for a boy."
February 14 might also be Valentine's Day, but after consulting a geomancer, Auckland lawyer James Ho and his accountant partner Nancy Wong decided to tie the knot a month before the lovers' day - and the start of the Year of the Tiger.
"It may be an age-old superstition, but we want our relationship to last and we're not prepared to take any chances," said Mr Ho.
Bank teller Lily Zhang, from Guangzhou, and her Malaysian husband Nicky Lee also brought their wedding forward to last Saturday to avoid a Tiger year marriage.
Mrs Lee said although the couple were eager to start a family, they would wait until the Tiger year passed before trying. Children born under the sign were believed to be violent, ill-tempered and unpredictable, she said.
In Mr Ho's native Singapore, the superstition is so entrenched parents have been known to induce births weeks early, especially for a girl.
Mrs Lee said: "I personally don't really believe in this, but my Malaysian in-laws are really into it, and I don't want to be blamed if we ... got a daughter who is fierce and violent."
Malaysian immigrant Janet Chan, an ardent follower of feng shui, said people born in the year of the Tiger had many positive traits, and were often charming, daring, passionate and natural-born leaders.
The Ancient Chinese believed markings on the tiger's forehead symbolised the word "Wang", meaning King, and the tiger is used as a military emblem for fearlessness and victory.
The Department of Internal Affairs, which oversees marriage registrations, says it does not record the ethnicity of people getting married and is unable to say if there are fewer Chinese bookings in the Tiger year.
YEAR OF THE TIGER
* February 14 to February 2, 2011.
* Third sign of Chinese zodiac.
* Tiger characteristics: affectionate, unpredictable, generous, passionate, reckless.
* Famous Tigers: Tom Cruise, Lindsay Lohan, the Queen, Marilyn Monroe, Victoria Beckham.