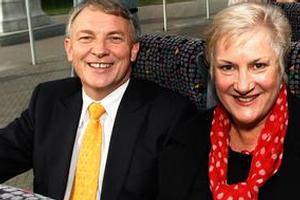 Labour's caucus has confirmed Phil Goff as party leader and Annette King as deputy.
Their leadership was confirmed at the party's first caucus meeting of the year - an all-day meeting at Waipuna Lodge in Manukau.
Under Labour's constitution the leadership must go to the vote in the middle year of every parliamentary term.
There were no challenges for the positions.
On his way into the meeting, Mr Goff said he did not expect to face any challenges.
Speaking to journalists after the vote he said there was unanimous support for him and Ms King.
"I emphasise the importance of midyear in the election term. Everybody has been putting in 100 per cent and our team willc continue to do that."
Mr Goff said before the meeting the lack of a challenge was a recognition that the leadership team already in place was the best Labour MPs could hope for.
"It's a clear message that 2010 is an important year politically." he said.
"All of us have been working hard to stand alongside ordinary New Zealanders who are expecting 2010 to be a better year for them, a better year in terms of getting a share in the economic recovery, and a fair share out of the tax changes this year.
"The year after an election is always hard for a party going into opposition. That starts to change this year, and I expect our people to be out there working hard on behalf of ordinary New Zealanders, doing their job as spokespeople and starting to develop their policy alternatives."
He is expected to tell his caucus to turn their minds to policy development and lift their game in challenging the Government.
The caucus will feast tonight at Mr Goff's Clevedon farm.
Despite the many jokes about a 'barbecue at Phil's place' Mr Goff has resisted holding a barbecue and will instead feed his MPs with lamb on a spit.