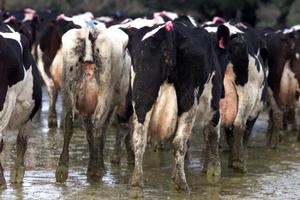 The Government has discussed intervening on large-scale proposals to farm cows in cubicles, as pressure grows from critics labelling it "factory farming".
However Environment Minister Nick Smith, who has the power to "call in" the proposed farming operations in the South Island's Mackenzie Basin on environmental grounds, is still to make a final decision on whether to act.
Mr Smith is facing widespread calls to challenge the proposals that would allow up to 18,000 cows to be kept in cubicle stables for 24 hours a day for eight months of the year, and 12 hours a day for the remaining four months.
The Green Party says the "factory farming" will be harmful to the animals, the surrounding environment and New Zealand's crucial free range image.
But those behind the proposed farming operations say the factory farming tag is wrong, as the cows will still have the freedom to roam from their cubicles and into the open air, while the risks to the environment can be managed.
Mr Smith has until February 2 to call in the first of the proposals that are before Environment Canterbury to consider.
His spokesman said the issue was raised yesterday at the first Cabinet meeting of the year, and "further consultation is to be made ... with affected parties".
Prime Minister John Key, who is against the cubicle method of farming, said there were mixed opinions among members of the Cabinet about calling in the proposals but a common theme was expressed.
He would not elaborate.
Among those who want the farming proposals to be called in is the Parliamentary Commissioner for the Environment, Jan Wright.
She is particularly concerned about the effects on the waterways in an area popular for tourism and recreation.
"The combined effluent of these operations would be similar in quantity to a city the size of Christchurch being located in the Mackenzie Basin."
Thousands have joined websites opposing the cubicle farming.
Green Party co-leader Russel Norman said the message from the public was clear.
"Factory dairy farming in the Mackenzie Country would hurt our animals, biodiversity, water quality, and international reputation.
"This is an issue of national significance, and there is widespread public concern. Nick Smith needs to call them in."
Calling the proposals in would mean they would be referred to an independent board of enquiry or the Environment Court, who were better able to consider the full impact, Dr Norman said.