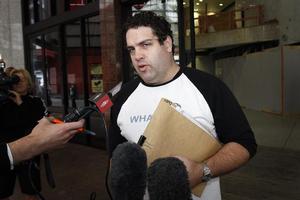 Police will investigate a blogger for revealing the identity of a former politician accused of an indecent assault on a 13-year-old girl.
Cameron Slater yesterday outed the former MP from the top of the South Island by naming him in a binary code on his blog.
The website later crashed as a huge surge of people trying to access the page clogged up the system.
Nelson Bays police area commander Detective Inspector John Winter said yesterday that Slater's website was being investigated after he posted a coded message naming a person whose name had been suppressed by the courts.
Mr Winter said such action in defiance of a court order was irresponsible and could lead to the identification of the victim the order was intended to protect.
Slater has already faced court on five charges of breaching court suppression orders identifying two prominent New Zealanders accused in separate sex offence cases. He entered no plea.
Outside the Auckland District Court last week, after facing a charge of breaching name suppression orders granted to a prominent entertainer, Slater said he had not named a comedian facing a sex charge in a third case because a child was involved.
However, last night he told the Herald that the former politician's case was different because the victim had a different name and would be more difficult to identify than the child at the centre of the comedian's case.
"People don't want to know who she is - they want to know who he is," said Mr Slater. "The thing about secrets is people want to know what the secrets are."
He said the other ex-MPs living in the same area as the defendant had no means of clarifying the situation they found themselves in.
Slater said he had received many supportive messages from victims of sexual abuse, saying they wished they were able to name their abusers.
And he said he did not name the former politician to attract publicity.
"People say that I'm publicity-seeking but I'm not," Slater said.
"I didn't seek for the police to charge me and I didn't seek for you guys to publish about it."
Meanwhile, Wanganui Mayor Michael Laws yesterday agreed that the name suppression granted to the South Island man placed all former members of Parliament, himself included, under suspicion.
Name suppression in New Zealand had reached "farcical proportions" and the judiciary was "out of touch" with both public sentiment and the concept of open justice.
"Currently, we have a musician convicted of a sex crime, a comedian charged with appalling child abuse, an Olympian charged with rape and serious assault and another ex-MP before the courts for fraud," said Mr Laws.
"In each case, totally innocent individuals are under suspicion and that is completely wrong."
Mr Laws was also charged with breaching a name suppression order last year on his Radio Live talkback show. He was discharged without conviction.
However the Law Commission wants more severe penalties for those who break suppression orders.
Canterbury University Associate Law Professor, Ursula Cheer, says the Law Commission has looked at the issue and believes the maximum penalty of a one thousand dollar fine is not harsh enough.
She says the Commission has also suggested a number of remedies.
"(It includes) an online register of suppression orders so that those who can get access would be able to see what is or is not suppressed, although that is not the case in this instance - this blogger knows what he is doing."
Ms Cheer says similar registers exist overseas.
- additional reporting: NZPA, NEWSTALK ZB