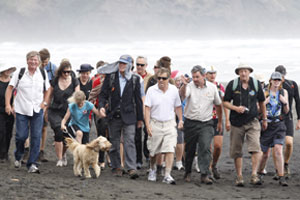 The family of Sir Edmund Hillary yesterday marked the second anniversary of his death by walking a rugged seaside hill track which bears his name.
Wearing a version of his father's legionnaire-style hat, Peter Hillary walked the Waitakere Ranges and beach at Piha to help open the 70km Hillary Trail.
"No, I'm not wearing a tea towel," he told children in the crowd gathered for the trail opening, saying the headgear gave protection from sunburn in alpine glacier regions.
His sister Sarah went one better by running a 32km section from Muriwai to Piha with her running group, Girls On Top. It took them 5h 35m.
"It's a fabulous trail ... glorious wild and beautiful scenery," she said.
"It's an honour to have the Hillary name associated with it, and we hope more people will get out to enjoy it."
Mr Hillary said the linking of sections in three regional parks to make the trail had achieved a dream of his grandfather Jim Rose, who introduced the family to holidays at remote Whites Beach, between Piha and Anawhata.
" It's where my father went to prepare for his expeditions ... He would march the black sands of Piha, attack the rocks at the southern end and return to Anawhata."
The Governor-General, Sir Anand Satyanand, joined the official opening, in which a trail marker post was unveiled by pulling away Sir Edmund's favourite Nepalese rug.
Auckland Regional Council chairman Mike Lee said he hoped the four-day trail would be extended a further 50km north along the coast to the South Kaipara Head to take in the new Te Rau Puriri Regional Park.
He also invited Sir Edmund Hillary Collegiate to relinquish Sir Edmund's former home, which was given to the Otara school last month by a businessman who bought it at auction and wants it removed.
The house is still on its site in Remuera, and Mr Lee said it could be well used on the Hillary Trail.