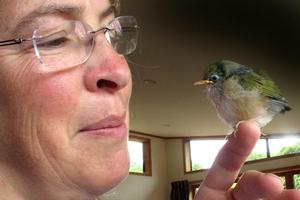 Injured and abused animals will always have a safe place to call home thanks to the Sanctuary.
Since 2002, Shawn Bishop and Michael Dixon have spent countless hours looking after over 100 animals of all shapes and sizes and fund much of the work themselves.
The couple live and work at the Sanctuary in Matakana, a 13 hectare property with grazing land to permanently home abused animals, surrounded by 162 hectares of protected bush where they can safely release rehabilitated native birds.
Ms Bishop has always been an animal lover and got involved with bird rescue through the SPCA.
"What started out as a small thing has just grown and grown and grown because somebody's got to do it."
The Sanctuary is made up of two different parts. One is home to rescued abused animals, particularly ones that are hard to rehome such as donkeys, goats and kunekune, the other is used to rehabilitate and release native birds.
"We get tui, kereru [wood pigeon], waxeye, ruru [morepork], herons and hawks - you name it we've got it."
They also look after a flock of former battery hens.
The couple nurse the animals back to health themselves, a skill they learned on the job. "You ask a lot of questions, you make a few mistakes, you read a lot, you Google everything until it becomes second nature."
The $10,000 from the 12 Days of Christmas is going to build a new, four metre-high aviary specially for kereru.
Currently, kereru are housed with tui in a much shorter enclosure.
"With kereru we have to know that they can get height, because that's where they eat."
But sometimes they release kereru and find the birds can only get partial height and they must be recaught.
"What we needed was a four metre-tall aviary and if they can get up to the high perches then we can know they have the criteria they need to survive."
Ms Bishop said the rewards are endless.
"I'm always amazed by the fact that these animals who've been really badly treated have the capacity to trust again and even love again."
And she always sheds a tear when the time comes to release a bird.
"I wish they could send a postcard ... and let us know they're okay."
KEEP THE CHANGE
This Christmas, the New Zealand Herald is featuring 12 hard-working charities which have been selected for a $10,000 donation from Auckland International Airport.
The winners were chosen by an independent group of advisers for the company, which collected the $120,000 from change left by travellers this year.