Staying connected through thick and thin has huge benefits for family groups and communities, says Tapu Misa.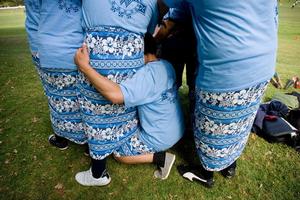 In the last school holidays, my sister's family and mine squeezed into a small suburban house. Three bedrooms, one bathroom, 11 people. Most days that number doubled as other family members joined us for lunches that lasted well into the evening.
When I tell this to my non-Pacific Island friends, they look faintly horrified. Poor you, they say. If I'm in the mood for sympathy I tell them how hard it was: the constant cooking and cleaning, the crowded sleeping arrangements, the staggered showers, the noise and stress, the cost, and the necessity of putting work on hold for two weeks.
Yes, it was tough all right. That's why we're doing it again this Christmas.
The kids like it (yes, even the teenagers) and as we've discovered, family togetherness requires - well, togetherness, however inconvenient, messy and crowded.
My friends think we're crazy, but we have science on our side.
In my first column this year, I wrote about a study in last December's edition of the British Medical Journal by Nicholas Christakis of Harvard University and James Fowler of the University of California on emotional contagion and the importance of our social networks to our health and wellbeing.
Their research showed that it's possible to catch a whole range of phenomena from one's nearest and dearest in ways that are still not entirely clear: happiness and depression, for example, obesity, drinking and smoking habits, even the tendency to attempt or think about suicide.
Some people took that the wrong way, as the professors wrote recently in the LA Times, opting to dump their fat, loser friends and family members. They missed the point. Just as those tempted to disconnect from their families to avoid the stress of Christmas miss the point.
Stressful or not, write Christakis and Fowler, "We need our connections, good and bad. Every one of them."
Because staying connected is vital to our emotional wellbeing. Staying connected makes us happy.
This is not to deny that a wide variety of "negative outcomes" are spread in social networks.
"Gang vendettas generate violence that cascades as new victims are targeted by friends of the fallen. Anxiety spreads like wildfire, causing episodes of epidemic hysteria in which everyone thinks they are sick even if they are not. Bank runs topple small banks, threatening whole financial systems.
"This panoply of perils that spread through our social networks could make even the most social of us consider becoming hermits. At the very least, it would tempt many to disconnect from our imperfect connections and huddle close to those we are sure won't infect us with bad behaviour. But the beneficial effects of a connected life are so strong that, on balance, the best solution is to help, not to abandon, our friends and loved ones."
There are very good reasons not to ditch "your misbehaving, up-to-no-good, loser friends and family members", write Christakis and Fowler.
One is that "the spread of good things within networks - whether wealth, information, happiness, love or kindness - compensates for the spread of bad things such as germs, crime, slander or sadness".
By staying connected, they say, we not only help ourselves but our whole community.
We often underestimate our need for connection. Before I had teenagers everyone told me that my kids wouldn't want to know me once they hit their teen years - but that's not been my experience.
If anything, teenagers crave more rather than less time with their parents. According to the latest Social Report from the Ministry of Social Development, for example, more than half of our teenagers don't think they see enough of their parents.
Said the report: "Having a close and caring relationship with a parent is one of the most important predictors of good health and wellbeing for young people." Well, of course.
I've been asked to several gatherings this year to talk about what we can do to lower our child abuse rates.
When I think of Michael and Wiremu Curtis who were imprisoned for the abuse and murder of 3-year-old Nia Glassie, and the extended family that emerged in the aftermath of her death, devastated at the actions of family members they hardly knew, I think I know at least one thing we can do: stay connected.
As a Curtis family kaumatua, Toby Curtis, has said, his first reaction when he heard the news of Nia's death was to "find them, hang them, string them, quarter them. Three days later I had to hang and string myself, I had no idea". The wider family, which includes a Hollywood actor, might have been able to help, had they stayed in touch.
A friend of mine on a prison visit this year met a man whose horrific childhood was a study in neglect and abuse. He was the man that James Whakaruru might have become, had he not been beaten to death by his stepfather for wetting his bed. This man had never been loved, and he didn't know how to love anyone else, but he had enough insight to know that he should never have children.
In A General Theory of Love, psychiatrists Thomas Lewis, Fari Amini and Richard Lammon combine neuroscience with insights gained from years of psychotherapy to posit that: "As individuals and as a culture, our chance for happiness depends on our ability to decipher a hidden world that revolves - invisibly, improbably, inexorably - around love.
"From birth to death, love is not just the focus of human experience but also the life force of the mind, determining our moods, stabilising our bodily rhythms, and changing the structure of our brains. The body's physiology ensures that relationships determine and fix our identities. Love makes us who we are, and who we can become."