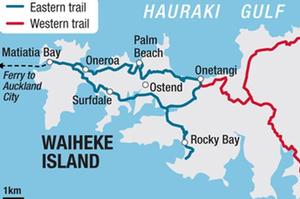 Waiheke Island is offering its stunning beaches, bush and vineyards as backdrops for Prime Minister John Key's national cycle trail.
Cycle Action Waiheke has won support from ferry operator Fullers and Auckland City Council to apply to the Ministry of Tourism by a deadline of December 18 to make the island part of the $50 million initiative.
Spokeswoman Barbara Cuthbert says the cycle trail would be "a perfect fit" for the island.
"It will bring more cyclists to stay overnight, and the right scale of investment and jobs to fit with the easy pace and engaging style of the island," she said, after a presentation to the city council's transport committee.
The cyclists, backed also by Auckland Central MP and keen pedaller Nikki Kaye, are proposing two main routes to cater for riders of varying experience and fitness.
Ms Cuthbert said a western circuit starting at the Matiatia ferry landing would probably be more suitable for casual visitors wanting to visit the island's vineyards, cafes and northern sandy beaches.
A "great eastern trail" through more rugged terrain would present a combination of challenges and rewards such as visits to the Stony Batter historic reserve for hardier souls including backpackers.
Dedicated cyclists wanting to try both trails could start pedalling at Matiatia after arriving from Auckland, and then traverse the island to Orapiu on its southeastern coast, where they could catch a Fullers ferry to Coromandel.
It is not known what portions of the Waiheke trails would be off-road paths, which are what the national cycleway initiative was intended to create when presented to the Job Summit.
But Ms Cuthbert said work had already begun on a shared pedestrian and cycleway for 2.5km up the hill from Matiatia to the island's main settlement of Oneroa.
Asked whether vineyard visits may produce wobbly cyclists, she said a proposed transport rule change next year would allow Waiheke buses - which are also run by Fullers - to carry up to three bikes at a time.
Fullers, which carries bikes free of charge on ferries, last month won a national award from the Cycling Advocates Network and the Transport Agency for being "cycle-friendly".
Chief executive Doug Hudson said the firm saw cycling as complementary to an integrated transport business and Fullers had an interest in broadening Waiheke's economic base.
Auckland City transport committee chairman Ken Baguley believed linking Waiheke to the national cycleway could be "an outstanding proposal" although he preferred off-road paths rather than leaving cyclists to contend with other traffic on narrow roads.
His committee last week approved spending of about $40,000 on signs for three "great urban rides" through Auckland streets under a joint proposal of Cycle Action Auckland and the Nextbike hire company aimed at boosting tourism and tapping into the national cycleway.
And it allocated $1.6 million to a traffic-improvement project for 1.2km along Wellesley St East to Grafton Rd, which will include building cycle lanes and enhanced footpaths.
Waitakere City has, meanwhile, erected large eye-catching signs along Scenic Drive in the Waitakere Ranges, a popular but hazardous training route for cyclists, to try to make it safer for all road users, including those headed for the west coast beaches.
Deputy Mayor Penny Hulse said up to 200 cyclists used the route on some weekends, accounting for 20 per cent of its traffic, so the "make space" and "share the road" signs were an important addition in the run-up to the summer beach season.