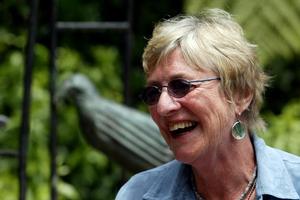 One of the country's most internationally renowned historians has serious head injuries after being struck by a truck while crossing Princes St in Auckland city.
Dame Judith Binney is in Auckland City Hospital with serious head injuries after being hit on Friday night. The truck stopped after hitting her in heavy rain.
Prime Minister John Key and culture minister Chris Finlayson were told of the accident only hours after it happened.
Binney is celebrated for her historical writing on New Zealand communities, and has a strong bond with Tuhoe. Her latest book Encircled Lands: Te Urewera, 1820-1921 was launched last Monday at Ruatoki Marae. It tells of the first 100 years of Tuhoe following European contact.
She was made a Distinguished Companion of the New Zealand Order of Merit for services to historical research in 2006.
Binney's husband Sebastian Black last night confirmed she had been in an accident. He did not want to comment further.
Angela Radford, publicist for Binney's latest book, said: "Judy has had a terrible accident and is in intensive care. Her family wishes privacy at this time."
Tuhoe kaumatua Dr Wharehuia Milroy had just heard when the Herald on Sunday spoke to him last night and said he was in shock.
"I'm just shattered that this has happened and hoping the injuries won't be serious enough to dim the fire that burns within her to inform the rest of the nation of the way in which Tuhoe has had to struggle over the years.
"She's a person who has dedicated herself to our tribal area. Tuhoe at this time is really needing that sort of leadership. I think her most recent book would have been a way of giving direction to Tuhoe people. Her books are going to be very important markers of the future of Tuhoe."
Finlayson said he was "very saddened" to have heard of the accident, which came only weeks before he was to host a reception at Parliament for Binney and Tuhoe.
"I have a huge regard for her as a historian. She's simply an outstanding New Zealand historian. I hope she recovers and gets back to full health as soon as possible.
"She has made a huge contribution and I feel very sorry for Tuhoe because I know how desperately upset they are going to be."
Waitangi Tribunal former director Buddy Mikaere said: "She is one of the most pre-eminent Pakeha to work in the Maori history field."
Susanna Andrew, communications manager of the New Zealand Book Council, said Binney was "at the height of her career".
Police acting inspector Danny Meade said a woman was hit by a truck just after 5.30pm on Friday night.
"She has severe head injuries but is in a stable but serious condition."
Meade said the early indications were that it was "pedestrian error", although the only witness spoken to so far was the driver of the truck.
He asked for any other witnesses to approach police.
Northern Club manager Nicki De Villers raced with blankets and a pillow to help after looking from her window to see "a woman on the ground and a truck straddled across the intersection".
De Villers said Binney was conscious at the time but not speaking.
- HERALD ON SUNDAY