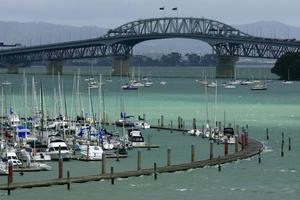 Completing strengthening work on the Auckland Harbour Bridge is essential with construction on a new harbour crossing still a decade from starting, Transport Minister Steven Joyce said this evening.
His remarks followed revelations of a huge blow-out in the cost of strengthening the Auckland Harbour Bridge clip-on lanes.
NZTA State Highways manger Tommy Parker said the cost had almost doubled, the rise had only been discovered recently, and would now cost $86m - up from $45m.
Mr Joyce said the bridge upgrade was necessary with the construction of an alternative cross harbour route to "largely occur in the second half of the (next) 20-year period."
He said he had no preference for either a tunnel or a bridge.
Earlier Mr Parker confirmed further funding to complete the bridge upgrade was approved at the NZTA board meeting in October and would come from the State Highway budget.
"They are essential works and we have no choice but to go and do that," Mr Parker said.
The contract work to reinforce the clip-on lanes is half finished and is scheduled for completion at the end of next year.
Mr Parker said the increase in cost was due to inflation of steel prices, a shortage of qualified workers and difficult working conditions in the 50-year-old steel structure.
"We now know more about the bridge and we have firsthand knowledge of what strengthening actually means," Mr Parker said.
The strengthening of the clip-on lanes will give the bridge an extended life of between 20 and 40 years.
However, Mr Parker said they will not be able to be strengthened again and will have a limited life.
He said the NZTA have recognised the need for another harbour crossing and have lodged a notice with the North Shore City Council and Auckland City Council to safeguard a future tunnel route across the Waitemata Harbour.
Their preferred option is a tunnel beneath the Waitemata that includes two rail tunnels and two car tunnels.
Mr Parker said the NZTA does not have funding for the tunnel which would take between 10 and 15 years to build.
He said the NZTA had not finalised the tunnel plan which would have to work in with council plans to develop the Tank Farm. Mr Parker said a second bridge was still a viable alternative and had not been ruled out.
- with NZ HERALD STAFF