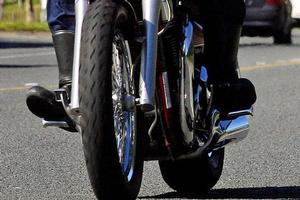 Motorcycle protesters are threatening to block shopping mall car parks unless the Government abandons proposed accident compensation levy rises.
They revealed yesterday a plan to "shut down" one of the Westfield retail group's nine Auckland malls on Saturday next week by filling its parking spaces with "a conglomerate of bikers, taxis, couriers and truckies".
Unlike protests planned for this weekend, including a rally on Sunday morning in Mission Bay, the shopping mall action is not sanctioned by the Bikers Rights Organisation of New Zealand (Bronz), which organised this week's "bikoi" to Parliament.
But an email sent to the Herald by veteran motorcyclist and former businessman David Peppiatt said shopping malls would be targeted until the Government backed down on the compensation levies.
"We intend to perpetuate such disturbances until ACC agrees to levy the man, not what the man is doing," the email said.
Mr Peppiatt said later that he was a "foot soldier" loosely affiliated to the Kiwibiker website, and not a protest organiser.
He denied the action could be termed civil disobedience, saying participants would be legally entitled to shop at the mall and park vehicles for up to two hours.
"Civil disobedience will be when we get to the stage of shutting down motorways," said Mr Peppiatt, who was among 5000 motorcyclists in Tuesday's protest at Parliament.
He said taxis and other vehicles were being included to highlight a view that all licensed road-users were being unfairly levied for accident compensation.
Waitemata road policing manager Superintendent John Kelly said people were entitled to protest within the bounds of the law, but the police would deal with any illegal action "as seems appropriate at the time".
Westfield spokeswoman Linda Trainer said the company had not been notified of any protests but its malls were private property and "we ask at all times for shoppers or visitors to our centres to respect the 'quiet enjoyment' of fellow shoppers and retailers."
Les Mason, Auckland president of Bronz and organiser of the "bikoi", said he had not heard of the proposed mall protest, but his group was unlikely to support it.
"That's something we wouldn't condone, because we would see it as being done specifically with the intention of causing public inconvenience," he said.
His group's committee had decided that any protests it organised would "in all cases be legal and avoid unnecessary disruption to the public".
Mr Mason said it was also prepared to sanction other protests within that definition, including the Mission Bay rally, at which motorcyclists will be urged to fill as many car parks as possible - one machine to each space.
He understood the Mission Bay protest was designed to draw attention to the prospect of extra congestion if accident compensation levy rises forced bikers into cars.
But he acknowledged more extreme protests were possible the longer Accident Compensation Minister Nick Smith delayed rejecting annual levy rises of up to $493 for large motorcycles.