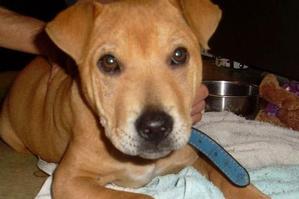 A staff error at an animal pound has led to a pet dog being killed before its owner could collect it.
Kaos, a shar pei-cross belonging to Michelle Griffiths of Manurewa, was impounded on September 17 and killed eight days later.
"I got a little handwritten card - they said they would hold her until the 26th," Ms Griffiths said.
"I went to the pound to pick my baby up and they said, 'She was killed yesterday. Sorry, we got the kill date wrong'."
Barry Gillingwater, managing director of the company that operates the animal shelter in Manukau City, said the mistake appeared to have been made by a staff member who had since been fired.
He said a "hold" flag, placed on Kaos's records to indicate that no action should be taken until further notice, was mistakenly deleted.
"It appears the owner spoke to a person to make arrangements to pick the dog up and the staff member hasn't dotted their i's in the system.
"If it was a current staff member it would be a subject for dismissal."
However, Mr Gillingwater said the staff member in question had been dismissed on Monday for unrelated reasons.
He said his company, DSS Animal Management, owed Ms Griffiths an apology.
"We don't delight in putting dogs down."
Mr Gillingwater said Kaos was originally impounded because of welfare issues, but Ms Griffiths believes the situation could easily have been avoided.
She said although Kaos was seized on grounds of abandonment, she had simply been at work and thought her pet was safe at home.
Christine Breen, a trustee of the animal welfare group Chained Dog Awareness NZ, said the case showed that animal control staff had failed in their duty.