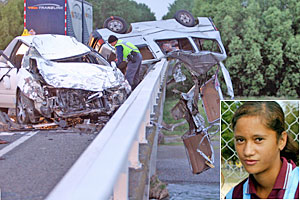 The 16-year-old teen driver at the wheel of the van in which two friends were killed was last night at the hospital bedside of her boyfriend who is feared paralysed.
Tamoko Christy, 16, is devastated by the outcome of the accident which has been marked by the belief of the families of the teens in the crash that their children only ever travelled with a sober driver, and police insistence that she had been drinking.
Her uncle Vaughan Christy said: "All she can remember was headlights heading towards her across the line.
"There was seven of them in their vehicle, in their van. Two dead, one still seriously injured and her boyfriend has got no feeling, so I think he might be paralysed."
Max Harman, 19, and Robert Waikari, 17, were killed after being flung from the van after it crossed the centre line to hit a car being driven by Simon Taunt of Napier.
Taunt and his girlfriend were moderately injured.
The van then struck the side of the bridge on State Highway 50 near Taradale, flinging both young men over the side of the bridge and 15 metres down into the shallow Tutaekuri River beneath.
One young woman also flung to the rocks below was seriously injured, but managed to walk out of the river and up to the road where she was met by police arriving to help. Among the injured was Ben Morrison, 19, who today remained in a critical condition in Wellington hospital.
Vaughan Christy said Tamoko a prize-winning softball player at Havelock North High School was "battered and bruised and cut up". Tamoko was released from hospital yesterday morning, but went home only briefly before returning to be with her boyfriend.
"It's a bit raw. She's not long only just got her license too. I think it might have been learners, I'm not sure on that one. She's at the hospital just staying with her boyfriend.
"We're all right it's just the other families, especially the dead."
Police yesterday described the accident as a "lethal combination" of "youth, alcohol and driving".
But Vaughan Christy said that Tamoko, who came to live with him after her father died, told him that she had not been drinking. "She was the sober driver. She was just doing the right thing. Everyone else was drinking and drunk and what not, and she was just driving them all home."
However, a police spokeswoman said the driver had been drinking and was breathtested after the crash. She refused to reveal her alcohol level.
The spokeswoman would not be drawn on what licence Christy held or whether she underwent an evidential blood test although officers said it was a "normal" procedure in any road accident.
One of those killed in the crash, Robert Waikari, owned the Ford Ecovan, which had couches installed in the back as seating. His mother, Carol Johnstone, wanted to make sure people knew the horrific impact drink-driving could have but said yesterday it was too soon to talk about what had happened.
Robert's grandfather Tony Waikari had tears in his eyes as he spoke about his "good boy". Robert's father James had come over that morning to break the news of his grandson's death. "He was a fun loving boy, he enjoyed life. He loved his mates and going out. He had an outgoing personality. He was a good looking kid, girls used to chase him a lot ... good looks and a good personality."
Tony Waikari said Robert saved up hard to buy the van. He was always careful on the road, and made a point of making sure he had a sober driver if he was going out.
Max's parents Greg and Virginia were surrounded by family and friends at their home and asked for privacy through a Hawke's Bay District Health Board spokeswoman. She said they were "terribly shocked" and still dealing with the news.
Friends of the dead and injured teenagers gathered on the river's side yesterday, unable to contain emotions as they looked at the orange pegs marking where the bodies had been flung to the riverbed. Girls stood together and cried while the boys sat on the bank, silent, staring at the place their mates had died.
"It's too much to take in, it's going to be really weird not seeing Robert's van at school on Monday," said one.
Robert and Max were considered responsible young men who were careful to arrange a sober driver.
The driver of the other car, Simon Taunt, 18, had bought the vehicle just two days earlier. A neighbour was visited by Taunt's seven-months pregnant sister Emma, who said her brother saw the van swaying across the road as he drove across the bridge and tried to swerve out of the way.
Taunt and his girlfriend were not yet ready to talk about their ordeal. When the Herald on Sunday visited the hospital, they were in adjoining hospital rooms and spending time together.
The neighbour said she saw Taunt heading out in his new car, and asked where he was going. "He just said 'cruising'."
"He was coming home to Napier when it happened. He told his sister that he could see the van swaying across the road ... and swerved left to save his girlfriend's life. He said the van rolled over the top of his car."
A family member of Ben Morrison, 19, said Ben had been put into a coma. "It was touch and go for a while and no one thought he would make it," she said.
- HERALD ON SUNDAY REPORTING TEAM: Anna Leask, Rebecca Milne and Rebecca Lewis