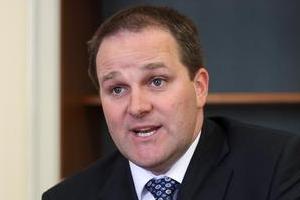 A referendum on the MMP electoral system will be held with the general election in 2011, Justice Minister Simon Power announced this afternoon.
Mr Power says the referendum honours a pre-election promise from National.
If the public decided change was needed a second binding referendum would be held at the following election in 2014 to decide which system to go with.

"The first referendum will ask two questions: the first will ask voters if they wish to change the voting system from MMP. The second will ask what alternative voting system they would prefer, from a list of options," Mr Power said.
A poll of 500 people done by Research New Zealand in September found that 45 per cent were in favour of retaining MMP, 42 per cent were against and 13 per cent were unsure.
The poll was conducted between September 8 and 10 and has a margin of error of 4.5 per cent.
Mr Power said the Government was committed to acting on the outcome of the referendum.

"This will be a contest between MMP and the alternative voting system that receives the most votes in the first referendum."
Legislation to allow the first referendum would go to Parliament early next year.
Mr Power said decisions to made by Cabinet include "drafting the questions included in the first referendum, the alternate electoral systems to be offered, and how that referendum will be conducted."
Input would be considered at the select committee stage.
He said those decisions would be announced when made.
Labour leader Phil Goff said his party was not against holding a referendum and would support legislation to hold one.
"I think the process has got to be better managed than the last referendum, it needs to have clear questions and people need to be well informed about the background to the issue."
The first MMP election was in 1996. Five elections have been held under MMP
- NZPA, NZ HERALD STAFF