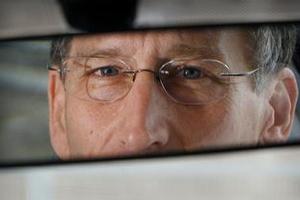 The head of new mobile phone player 2degrees fully supports a ban on cellphones while driving, after he wrote off another car while being distracted by his.
American Eric Hertz, who moved to New Zealand from Washington DC to become 2degrees' chief executive nearly two months ago, said he had glanced down at the Google Maps function on his phone when he drove into a stationary vehicle at an inner-city Auckland intersection.
The car in front of him had moved forward, then stopped short and Mr Hertz's Volvo station wagon kept going.
Mr Hertz's phone was in a hands-free cradle, and always is when he is in the car.
It is the second thing Mr Hertz does when he sets off to drive somewhere - after he fastens his seatbelt he makes sure his hands-free headset is ready in case he gets a call.
But he said the accident proved that there were a host of dangerous distractions in a car.
The front grille and bumper are now being repaired and he has fitted a GPS system that talks him through the directions in a New Zealand accent.
Being new in the neighbourhood, Mr Hertz said he was reliant on GPS to get around.
Three Saturdays ago he was heading from his apartment in the Viaduct to Ponsonby via College Hill.
He looked down at his GPS when he became confused by the road signs, something he said he realised he never should have done.
An anonymous reader who contacted the Herald said the driver of the other vehicle was still suffering back pain after being treated for whiplash, and was unable to resume his job four weeks after the incident.
The driver's seat and passenger seat were ripped from their brackets in the incident and it is understood the vehicle was written off.
Mr Hertz said that 2degrees' insurance provider was dealing with the claim.
He said this accident pointed to why using cellphones while driving should be banned, and indeed all distractions should be minimised.
The cellphone ban comes into force on November 1.
Drivers talking or texting while on the road will be liable for an $80 fine and 20 demerit points.
At least 50 other countries have bans or partial bans, many of them carrying penalties far greater than those in New Zealand.
* Distractions on the road
Last year's statistics on road crashes show 40 people died as a result of diverted attention. Reading is not listed. Reasons for distraction:
Cigarette, radio, glove box etc - 223 non-fatal accidents, 6 fatal.
Cellphone or communication device: 116 non-fatal, 1 fatal.
Driver dazzled: 205 non-fatal accidents, 5 fatal.
Advertising sign: 4 non-fatal accidents, 0 fatal.
Emotionally upset - 92 non-fatal accidents, 7 fatal.
Animal or insect in car - 24 non-fatal accidents, 0 fatal.
Passengers - 146 non-fatal accidents, 8 fatal.
Scenery or people outside vehicle - 145 non-fatal, 1 fatal.
Trying to find house or intersection - 42 non-fatal, 0 fatal.
Other - 154 non-fatal 9 fatal