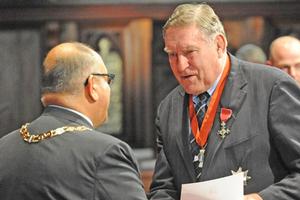 New Zealand rugby legend Colin Meads may now be a knight, but he doesn't want to be called sir.
"I'm still Colin Meads and I will be till I die," he said today at a ceremony in Wellington's Old St Paul's church for those who have chosen to be redesignated as Knights or Dames.
"It's a great honour, and I'm pleased for the people of Te Kuiti and for rugby too," Sir Colin said.
Titular honours were abolished by the Labour-led government in 1999, but Prime Minister John Key announced in March they would be reinstated.
Those made Principal or Distinguished Companions of the New Zealand Order of Merit since 2000 could opt to be known as Sir or Dame, with the titles effective from August 1.
Governor-General Sir Anand Satyanand hosted today's ceremony to redesignate 66 New Zealanders as Knights or Dames.
Those accepting the honours included Olympic triple gold medallist Sir Peter Snell, yachtsman Sir Russell Coutts, The Warehouse founder Sir Stephen Tindall, former prime minister Dame Jenny Shipley and children's author Dame Lynley Dodd.
Dame Malvina Major, who was among three New Zealanders to receive the highest honour of Grand Companion, said she was overawed by the ceremony.
"It's been a great privilege, and long may the work continue ... I've got a lot of work to do for other New Zealanders."
She said she was humbled by the occasion, although getting used to the title would take some time.
"It's sort of funny really, isn't it. It makes you feel old.
"I don't know how you address a Grand Dame, but I'm sure I'll just be known as Malvina forever."
Sir Peter Snell said it was a thrill to receive the honour.
"It is really tangible and I appreciate it ... I feel honoured to be recognised."
Dame Jenny Shipley said she hoped the honour would be an inspiration to young women.
"Anything's possible and I would want them to strive.
"Role models are important in today's society and I hope that in some small way this honour creates that for other young women."
Prime Minister John Key, who attended the ceremony with his wife, said titular honours had widespread public appeal because New Zealanders wanted to celebrate great achieve rs.
"We're acknowledging the efforts of 66 New Zealanders who have really achieved remarkable things. We're not only celebrating them but very often the organisations that they've represented."
He was not disappointed that 13 of the 85 people invited to take up titles declined.
"Those that chose to turn down the opportunity to take up a titular honour did so for their own personal reasons, and I fully respect that. It's not for everyone."
Seven New Zealanders who had accepted the titles were unable to attend the ceremony.
A private investiture will be held for Sir John Walker to receive his title at Government House tomorrow.
- NZPA