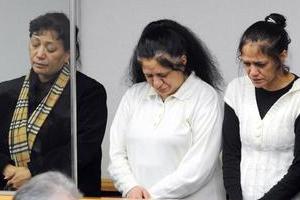 An uncle and four aunts who all received community-based sentences today for the manslaughter of niece Janet Moses in an ill-fated exorcism attempt committed a "crime of love", says one of their lawyers.
Greg King made the comment outside the High Court in Wellington after Justice Simon France spared the five accused jail terms, saying they had not intended to harm 22-year-old Ms Moses but were trying to help her.
The young mother-of-two, who may have been suffering a mental illness, drowned in October 2007 after extended family members poured copious amounts of water into her mouth and nose over several days in a bid to lift a makutu or curse.
They believed she was possessed by a demon and that it was linked to the theft by a relative of a concrete lion statue from outside a Greytown hotel in Wairarapa a few weeks earlier.
The death of Ms Moses did not occur because of a recognised ritual or any "fanatical beliefs", said Justice France.
What happened was not the result of any cultural or religious practice.
"Makutu did not kill her - she drowned."
The family was not unique in their belief in the healing powers of water, he said.
But things deteriorated when more than 30 whanau members - sleep and food deprived, who had crammed into a small hot flat - began to use water more prolifically.
There was so much water in the one-bedroom unit that a hole was drilled in the floor to let some of it escape.
Ms Moses was held for a prolonged period under the shower and force-fed quantities of water in attempts to clear out the demon.
"It is undoubted that, at some stage, hysteria entered the room," Justice France said.
The amount of water "so compromised her airways and lungs that she drowned".
He added: "The accused did what they genuinely thought was right. I have no doubt they believed that she was possessed by makutu and were trying to help."
Authorities were not called to the house for several hours because the family then turned their attention to a 14-year-old cousin of Ms Moses and "tried to save her".
Justice France told John Rawiri, 50, and his sisters Glenys Wright, 53, Angela Orupe, 47, Aroha Wharepapa, 49, and Tanginoa Apanui, 43, at the outset that he "would not be sending anyone to jail at the end of today's exercise".
This followed the submissions of Crown and defence lawyers, during which the women in the dock wept into handkerchiefs.
"Prison would not achieve anything," said the judge. Nor did he see any great need for deterrents.
"This is a unique case and unlikely to be repeated."
The death was highly unintended and unexpected, but it would be wrong to say there was no responsibility.
"A young woman died in horrible circumstances where others were keeping her isolated from the world."
The culpability of the convicted lay in their failure to seek outside help and in ignoring other options, the judge said.
Relatives and supporters who crammed the public gallery and spilled out into the foyer remained silent until the proceedings had ended.
As Justice France rose, they stood and clapped loudly. Tears, smiles, embraces and relief were the order of the day.
However, they closed ranks outside the court and refused to talk to the throng of waiting media.
Lawyers, too were reticent. Defence counsel Mike Antunovic said of the five accused: "They deserved that result."
- NZPA