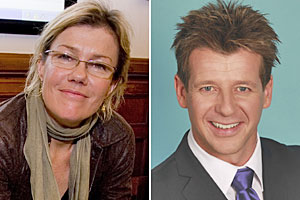 In retrospect, Ashburton College's production of Romeo and Juliet in 1982 was a star-studded event.
Playing Romeo's bawdy friend Mercutio was 16-year-old Simon Barnett, later the host of TV shows such as Wheel of Fortune and Stars in their Eyes.
And playing Nurse Angelica, who raised Juliet and was her go-between with Romeo, was Robyn Malcolm, now the face of West Auckland in the drama series Outrageous Fortune.
"Simon wore yellow tights," Malcolm recalls.
Almost 30 years later, Barnett's and Malcolm's mothers back in Ashburton remain, in Barnett's words, "the dearest friends".
But the two performers have lined up as rival celebrities for the "No" and "Yes" votes in next month's referendum on the question, "Should a smack as part of good parental correction be a criminal offence in New Zealand?"
On the Vote No website, Barnett fronts a video saying, "Kiwi parents know the difference between a light smack and child abuse."
But at the Auckland Town Hall yesterday, Malcolm filmed a statement of support for the "anti-smacking" law with former TV One newsreader Judy Bailey, Kidzone host Kayne Peters, author Brian Edwards and others.
"I'm supporting this because I believe that any type of violence towards children is completely unacceptable," she said.
Malcolm has never smacked her sons, now aged 5 and 3.
"I have wanted to smack them - I've felt the urge," she admitted.
"I separate myself from them. I go hang the washing. I'm the adult, I'mt he one who can remove myself or put them in front of a video for 20 minutes and go and make a cup of tea.
"There's a million ways of imposing boundaries. Timeout is really good. I find the removal of things that are really meaningful to them, like putting the Bionicle [a plastic toy] on the top shelf for a week, really works.
"It's about consequences: 'That's behaviour we don't allow in this home and if you continue to do it there will be consequences because I'm the boss'."
But Barnett has smacked his four daughters "on the odd occasion" and resents being labelled a child abuser.
He and wife Jodi decided early on to use a smack "as a consequence for certain behaviour" until each child turned 10. "My wife and I would always say, 'I'm going to count to three, and if Dad gets to three then there's a consequence'," Barnett said.
"It might not be a smack. It might be timeout. It might be missing out on the $1 bag of lollies that we get for each of them when we watch a family movie on TV on Saturday night."
But it was a smack, for example, when one daughter aged 6 ran across the road when a car was coming.
"But I didn't smack her in anger," Barnett said. "I told her, 'We've told you so many times not to cross the road by yourself,' and I smacked her on the hand. She's never done it again."
* How the celebs see it
Robyn Malcolm
TV show: Outrageous Fortune, TV3.
Age: 44.
Lives: Titirangi.
Status: Solo mother.
Children: 2 boys aged 5 and 3.
Smacked children: Never.
Referendum vote: Yes, because any form of violence towards children is unacceptable.
Simon Barnett
TV shows: Stars in Their Eyes, TV One; Wheel of Fortune, TV2.
Age: 42.
Lives: Christchurch.
Status: Married to Jodi since 1991.
Children: 4 girls aged 15, 13, 10, 9.
Smacked children: Yes, "on the odd occasion".
Referendum vote: No, because the law bans smacking but then says, "Don't worry, you won't be prosecuted."