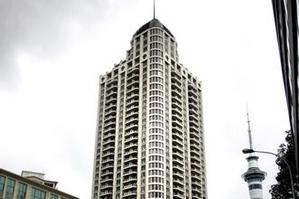 Estate agents and property investors are predicting a major shortage of new apartments and multi-unit dwellings in Auckland once fire-sale stock is cleared out this year.
With many development companies in liquidation, and developers licking their wounds over lost millions, building consent applications for major developments have dried up.
The global credit crunch means finance for new projects is virtually impossible to get and fire-sale prices of existing stock means developers planning new developments couldn't compete.
On Auckland North Shore development has ground to a halt. Apart from a Housing New Zealand housing project, and a new retirement village, the North Shore City Council has received no recent applications for projects this year.
Specialist building team leader Brian Johnson said builders and developers were still interested in the Albany Basin area but all projects had been "parked".
Applications for big residential projects in the Auckland City have also slowed, as having building consent numbers generally. The council received 2573 building consents in the first six months of this year, a 23 per cent reduction on the same period last year.
Ian McCormick, the council's building control process manager, said there had been a significant reduction in the number of applications for multi-storey apartments and multi-unit developments in the first six months of this year compared with the same period last year.
"In fact we have had an instance of plans for an intended apartment building development being changed to incorporate commercial offices instead," he said.
The dollar value of building consents lodged in the year to June 2009 was $1.5 billion, a 20 per cent decrease on the previous year.
Nationally, the number of building consents for new apartments has fallen from 5668 five years ago, to 1834 in the year ending May 2009.
Since March this year, estate agents have had their hands full marketing a stream of apartments re-offered for sale. Some are mortgagee sales, including Blue Chip stock, and others are new apartments sold off at reduced prices by struggling developers or resold after vendors, who bought off plans two or three years ago, failed to settle.
Apartment real estate ads promising bargains scream for attention: "So seriously for sale it hurts," "Blue Chip hangover" and "situation critical".
Kellands estate agent Matt Baird said interest was high in five new Ponsonby apartments for sale in a Mackelvie St block after the original purchasers failed to settle.
About 30 groups turned up to view the one and two-bedroom apartments last weekend and two offers were made, with serious interest from another four people, he said.
Baird said prices had come back since the apartments were sold off the plans in 2007. He expected the one-bedroom apartments to sell for between $300,000 and $339,000, and the two bedroom apartments from $450,000.
Vendors who fail to settle not only lose their deposit but are liable for any shortfall if the property is resold at a lower price. Agents say that vendors who try to come to an arrangement with the developer or bank are treated more leniently.
"It's the people who put their heads in the sand and don't accept responsibility that get into trouble," one agent said.
Estate agents and investors predicted a shortage of good-quality apartments by next year.
Baird said investors who got in now would do well in the future. There was demand in the Ponsonby area from people who had up to $450,000 to spend on an apartment but could not afford to buy a house in the area, he said.
He and his colleagues had been busy since March but stock was starting to run out.
Several big developments in Auckland have been put on hold, apart from a multi-storey development on non-permanent-stay apartments in Anzac Ave and Emily Place as part of a two-tower hotel development.
Apartment investor Terry Rota said a change in regulation increasing the minimum size of apartments, and fire-sale stock, meant the price of new apartments could not compete with the current well-priced stock available.
"Developers can't compete. They're not doing the projects," said Rota.