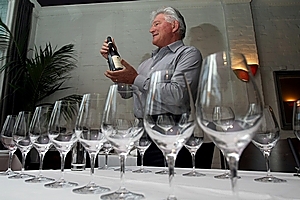 A quiet filmgoing weekend, partly because my scooter's on the blink and partly because I had a plaintive last-minute call from somebody who asked me to do a sub-editing shift yesterday.
It was something of a sacrifice, I have to say. For a start, I missed a couple of screenings I'd booked for (The Wind Journeys and Double Hour, only the first of which I'll be able to catch up with later). And the subbery of a Sunday newspaper on a Saturday evening is a particularly bad place to be if you are wanting to remain ignorant of what's happening in an All Black-Springbok test until you get home and can fire up the HDD recorder.
It's the worst of both worlds: you know exactly what's going on but you're so flat-tack with deadlines exploding all around you that you're lucky if you get to watch the replays of the tries.
On another level, I'd rather miss a Saturday than a weekday at the festival. The audiences are smaller midweek and - no offence intended to anyone who can perceive a difference between a cinema and their living room - you get a better class of patron.
I'm not saying anything about talkers, latecomers and popcorn crunchers because I have said enough.
I'm looking forward to Oceans this afternoon, having already seen some footage of the eye-popping (and pop-eyed) creatures that live in an environment of 1000 atmospheres of pressure. Sometimes it's fun at the festival just to turn off the mind, and marvel.
Thanks to a couple of correspondents, including an usher/bar attendant at The Edge, who felt moved to respond to my complaint about the crappy plasticware they make you use at the Civic if you want to take your wine or beer into the cinema.
"The fact is," the usher writes, "that, in an ill-lit ('atmospheric') room filled with up to 2400 people, glassware becomes something of a liability in the event of an emergency evacuation - and that is what we constantly have to consider.
"At the Rialto and the Academy [where, I had remarked, we are treated like grown-ups and entrusted with glasses] they simply do not have to contend with those numbers."
I hope I am not the only one to have spotted a couple of logical problems with this argument. For a start, what "liability" does glassware become in the event of an evacuation? Are we more likely to trip over an abandoned glass of pinot gris than, say, a handbag, umbrella, walking stick or mother-in-law accidentally left in the cinema in the stampede for the exits?
Perhaps the suggestion is that glass broken when trampled underfoot is a danger. And doubtless it is to all the Civic patrons who are barefoot or bejandalled in July.
As to the numbers question, I would be surprised if a full Academy with its two exit doors - one of which could presumably be blocked in an emergency - is significantly more difficult (or takes significantly longer) to evacuate than a full Civic with its ... how many? a dozen? ...exits. If it does, somebody should be attending to the disaster plan.
In any case, this line of argument implies that the management at the Academy and Rialto care less for their patrons than the good people at the Edge. Further, it rests on the assumption that 200 people at the Academy are less worth saving than 2400 at the Civic. Anybody who thinks like that should probably be in a business other than venue management.
But I think my correspondent reveals more than he intended to with his final comment. The glass ban, he writes, "saves having to keep bar staff back until the film/show ends just to collect, wash and sterilise however many hundred glasses have been kindly left lying around the auditorium. And frankly, the state that I have seen the theatre/filmgoing public leave our theatres in sometimes, I'm surprised management allows food or drink at all."
The "however many hundred glasses" are presumably left in plastic form (to be collected by cleaners, a lowlier group than bar staff, and tossed into the rubbish?) but at least the interests of the bar staff are looked after. That, presumably, is the main thing. To hell with the punters.