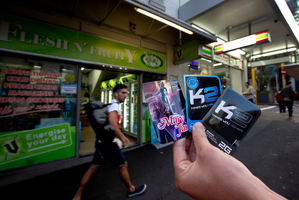 Stories making headlines across New Zealand at noon include police and hospital staff are seeing more people suffering from the effects of synthetic cannabis and wild weather across the country.
The synthetic cannabis product K2 - targeted in the Government's crackdown on legal highs - is making its presence felt in Hawke's Bay communities, with police and hospital staff seeing more people suffering from the effects of the substance.
It has been a weekend of wild weather across the country with Northland emergency services on stand-by last night after severe weather warnings forecast the region would be hit by extreme winds and heavy rain.
In Rotorua 300 lightning strikes were recorded on Saturday night alone.
A van involved in a collision with a car on a bridge near Taradale, killing two teenagers, will be on display at this year's Hawke's Bay Youth Alcohol Expo.
A "behaviour change" is needed to reduce the frequency of crashes at Rotorua intersections, a local road safety co-ordinator says.
A Whangarei criminal lawyer is delighted the Government "bowed to public pressure" and banned a substance found in the synthetic cannabis product K2, just weeks after he called for the legal highs to be outlawed.
Dairies in Wairarapa say they are still dealing with the fallout from K2.
A disputed debt is behind an application to liquidate a company linked with the Kingdom of Zion lion park in Kamo.
A controversial website designed by a victims' lobby group to highlight judges' decisions has been launched today.
Sixteen trees planted as memorials to the dead are to be felled in Tauranga's McLaren Falls Park.
More stories making headlines today:
Riders left in limbo
Wairarapa dairies dealing with K2 trouble
Drive In Festival numbers up 10 per cent
Duck shooters eye bags in first salvo
Kevin Page: Dinner party fruit kebabs to die for
Our People: Kim Perks
Postcards from the Edge in Korea