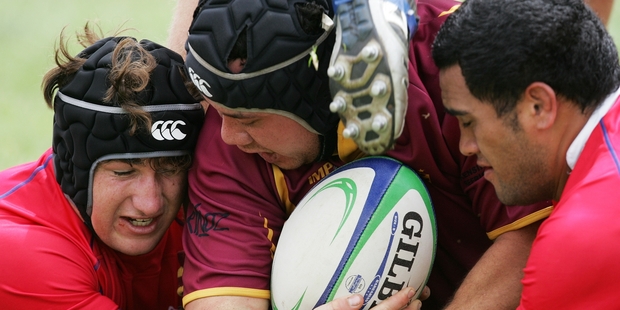 Hora Hora gave notice to the rest of the Southern Districts Premier Rugby competition that they mean business this season by beating 2013 champions Mid Northern 31-25.
The exciting opening round clash was a good advertisement for rugby with the lead swapping hands five times before the home side eventually won.
The home side deserved their win by dominating possession and territory and looked more dangerous throughout.
Hora Hora skipper Alan Nesbit was satisfied to get off to a winning start against a good side. "It was an awesome result for us and we've done a lot of work over the off season to get ready and I'm glad we could foot it with Mid Northern today," he said
Nesbit picked up two of the tries from rolling mauls - a traditional weapon at the club - but it was the way the other tries were scored that suggested Hora Hora could be a different kind of team this year.
"We're trying a few new things this year, trying not to be so one-dimensional and we've tried to add a few more facets to our game," he said.
Nesbit noted that Mid Northern were missing a few key players from their championship side, in particular the injured Buster Tahere, who was sorely missed in the pack.
Captain Sonatane Takalua said Mid Northern would brush off the loss and get to work on next week's game - another tough one - against Old Boys Marist at Hukerenui.
"It was the first time that we've all played together as a team and we were hoping to get a win under our belt but it didn't happen that way today," he said.
The visitors started the scoring early in the first spell with Alex Semenoff scoring under the posts. The converted try spurred Hora Hora on and they dominated the rest of the spell but despite Nesbit's first try, still trailed 7-10 at the break.
Warren Dunn made the most of a good start to the second spell by scoring a great individual try, using his strength to barrel over in the corner. Takalua added a penalty to retake the lead before Nesbit was mauled over again for a 19-13 home advantage.
Lock Winiata Tipene crashed over from close range as Mid Northern capitalised on a good midfield break in the 55th minute to hit the lead again before Hora Hora was awarded a controversial penalty try.
A crossfield kick by first five-eighth Ume Fosita caught the Mid Northern defence out. The kick was fielded by Brad Day who was tackled a metre short of the line. Two Hora Hora players were the first to the breakdown leading the tackler to hold onto the ball for dear life and leading referee Kyle Collins to award the try under the posts.
Hora Hora's Rukuwai Waata scored a try with 15 minutes to go leading Mid Northern to attack to try and rescue the game.
After several chances they were finally awarded with a try to replacement Toby Parr on full-time, at least earning a point for their efforts.
Both sides have identified plenty to work on in the coming weeks.