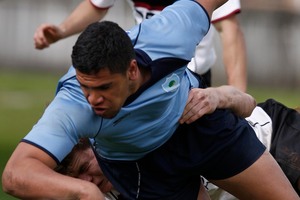 Northland's under-18 representative rugby side didn't get their season off to the greatest of starts, but coach Pat Stevens says the young men were not outclassed by their North Harbour opposition.
Stevens was upbeat about his side's 36-5 loss at Kamo on Saturday, adding that their performance boded well for upcoming matches and into next year. "We had some positives and we had definite 'work ons'," Stevens said, who co-coaches the side with Hamish McKerrow.
"Mostly around the gap between what our guys are playing [week-in-week-out] and what the opposition is playing. They had a couple of bigger guys, but the fitness is what exposed us.
"There are only six under-19 sides to select from, plus a couple guys in senior teams, the so competition just isn't hard enough or taxing enough to get to the school level you get in Harbour and Auckland."
Stevens said he and McKerrow had given the squad as good of a build up as they could leading into the season opener on Saturday.
"We've given them a short sharp shock in the two weeks leading in [to the game]. [Not having a long build up] is tough thing to do ... it's hard to get them up to that level in such a short time.
"[But], overall they've got the attitude, and willing to do the hard work, but they need to be able to last physically and mentally for longer."
Stevens said many would be available for the under-18s side again next year.
The side's only try scorer was Mana Taylor, a last minute inclusion after the side only had 22 fit players available. The team take on Auckland West at Bell Park at 1pm next week.
In other Northland representative games, Northland Bs beat Auckland's under-21 side 21-9, Northland's under-20 side went down 21-3 to Counties Manukau, and Northland's secondary school girls' team lost 27-12 to Auckland.
In zone-based matches, North Zone under-16s came out on top of South Zone 29-16 while the under-14 club mates were hammered 61-nil by South Zone.
Under-18s: John Bell, Shelford Murray, Cullum Subritzky, Mana Taylor, Sean Rawiri, Terrick Mill, Devron Phillips (all 90 Milers), Curtis Toapuho, Tom Stevens, Joshua Taylor, Sam Munro, Louis Ward (WBHS), Corey Evers, Saula Uluaki, Lawrence Mika (United Kawakawa), Barry Welsh, Michael McKenzie (Southern/Otamatea), Mana Williams (Wellsford), Jesse Rihari (Kerikeri), Dominic Ormsby (Mid Northern), Jordan Cox (Waipu), Tama Korewha. Subject to injury, Tom Smith (Kerikeri). Unavailable due to injury, Hemi Nahi (Kamo HS).