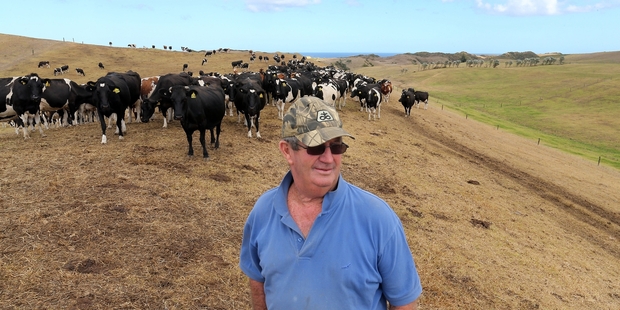 Some Northlanders fear Tropical Cyclone Lusi could mess up their weekend and wish it would give the region a miss.
But on the Kaipara west coast beef farmer Kim Biddles and his dairying friend Colin Hadlow can't wait for the storm to bring some relief from months of drought which has stripped feed from their farms.
Mr Hadlow is so eager to meet Lusi he'd do a rain dance to welcome her, but he said his reconditioned knees and hips couldn't handle the excitement.
He's spending about $100,000 a month buying in palm kernel, barley, meal and grass and maize silage to sustain the 700 cattle on his coastal 400-ha farm south-west of Dargaville.
The animals are standing on sandy soil. With only 88mm of rain between October and December last year, 38mm in January and 6mm last month, wind and sun seared off English grasses long ago, with chicory crops failing to establish and even kikuyu now surviving only in gullies.
"I'm praying for rain tomorrow. It's no fun farming in these conditions. It's quite depressing," Mr Hadlow said.
Mr Hadlow is willing to "buy" production through feed purchases as Fonterra's $8.65kgMS record forecast milk payout is - like rain - a bright hope for his future.
Mr Biddles hasn't got a Fonterra pot of gold coming his way so he hasn't bought in any feed for the 650 beef cattle on his coastal 450ha south of Te Kopuru.
He's got a tinge of green on a 15ha doorstep of Redhill loam at the farm entrance and the rest is Pinaki sand which resembles the surface of the moon except for green oasis waterholes which are a treasured feature of some farms in that area. Mr Biddles, who began farming sheep there in 1966, said it was the driest his farm, now leased by his son San, had been since severe droughts in the 1970s.
"We had good summers for 10-15 years before the last few dry years," he said. "The drought we're having now started with dry spring weather last year and no rain since October."
Despite both the Biddles and Hadlow farms having no feed, the cattle on both properties are in prime condition, with no skinny or stressed animals seen among them.