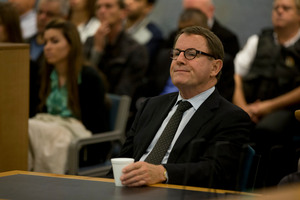 "Kill a chicken scare the monkeys." You've got to give it to the Chinese - their proverbs don't prance lightly around politics. Judge Wiley's warning that John Banks' sentence was meant to deter others from offending against the Electoral Act highlighted that secrets are an anathema to democracy.
It's important because what the court found Mr Banks guilty of was trying to undermine the democratic process itself.
In this tranquil corner of the Pacific that might not seem like a big deal and, to many in parliament, it didn't either.
Telling, that the high priestess of New Zealand right-wing politics, Michelle Boag, said the Banks issue had sent "a chill up the spine of every MP", claiming he'd only done the same as "every political candidate who has put in a donation form".
The judge found evidence "indicated that Mr Banks' collection system was common practice" could be the studied understatement of the legal profession.
The Act Party campaign director, Richard Prebble, popped up declaring half the MPs should be thrown out if what Mr Banks did was illegal and that most of the donation forms he'd seen were nothing short of fiction. That a well-weathered politician would publicly suggest only a pack of girl scouts would worry about these offences indicates how prevalent it is. It would be difficult to believe local elections were any different and easier to forget that Mr Banks was mayor of Whangarei a long time before he was mayor of Auckland.
There's a sense of "that's the way we've always rolled" in the protestations of innocence and surprise at the outcome. David Cunliffe has conceded a trust set up to receive donations may not be the best look for a politician wanting to keep an image of integrity.
Election day is the one day we are all truly equal, which makes it worth voting. Unless someone's already bought the candidate I want to represent me.
The new rules mean only donations under $1.5K remain anonymous. That would barely buy a couple of billboards and a beer and is unlikely to warrant the effort if you wanted the cheap easy way to world domination - buy yourself a politician and then lean. Everything else must be declared.
Anyone who thinks Kim Dotcom has a sudden love affair with being open about his business dealings is naive. Mr Dotcom has gone dog and Mr Banks was going to pay because Mr Dotcom thought he had a deal. It's as simple as that.
I doubt if we'd have heard of the donations if Mr Banks had visited Mr Dotcom in jail and worked really hard behind the scenes to get him out and away from the American justice system. Another reason why Mr Banks shouldn't be punished further.
Justice Wiley's findings have illustrated another proverb. It's a Russian one: "The cheese in the trap is free."
It's better in a Russian gangster accent delivered with a smile full of gold teeth.