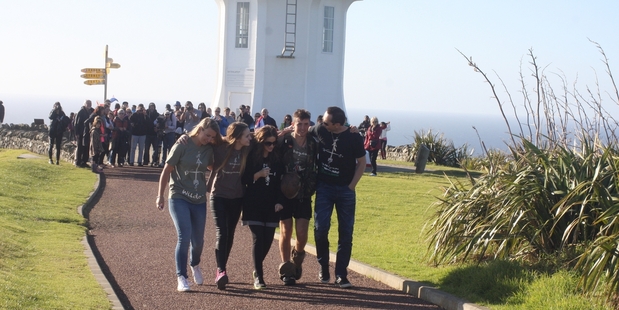 Brando Yelavich's triumphant completion of his 8000-kilometre trek around the coastline of New Zealand was delayed briefly on Saturday afternoon, while he enjoyed a brief swim directly beneath the Cape Reinga lighthouse.
Uniquely, perhaps, the 20-year-old Greenhithe (Auckland) man took just a few minutes to cross from the Pacific to the Tasman before shedding his clothes and striding into the water. Then he made his way up his final hill to the lighthouse, where family, friends and TV cameras were waiting for him with Croatian and New Zealand flags, cheers and a cacophony of blasts from vuvuzelas (the instrument that featured prominently at the 2010 Fifa World Cup tournament in South Africa).
As he reached the rock wall in front of the lighthouse, he raised his arms and declared, "I'm back!"
Earlier Brando's father Todd attached an addition to the famous signpost in front of the lighthouse, pointing south to the 'Wildboy Trail,' while the gathering waited for him to come into sight far below.
Brando thanked the "best Dad in the world," his Mum, sister, girlfriend, his sponsors and the people of New Zealand.
"My next adventure is called life. That's where I'm headed," he added.
After posing beneath the signpost and clambering up on to the lighthouse balcony to wave a flag, he marched up the hill to the carpark, where one final photo was taken, before heading to Kaitaia for a feed of fish and chips and a good night's sleep.