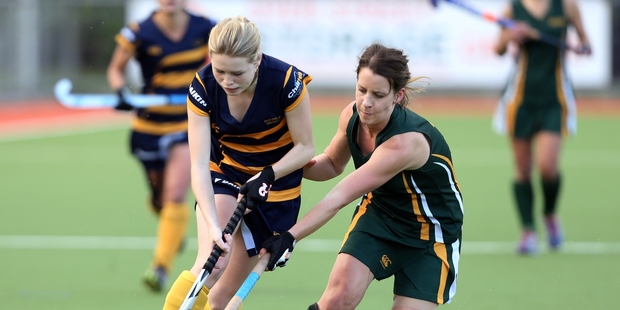 A drama-laden Northland Hockey premier women's final was decided in the second period of extra time by a penalty corner variation conjured up by Laura Douglas and Tarranah Vette.
Douglas drew the defence by shaping to shoot before flicking the ball left to Vette, who drove the ball into the goal to give Chill Tech Old Girls a 3-2 win over Real Deal Maungakaramea.
"It was one of our old moves that we've practised a lot and done a few times and it finally came off when we needed it," a delighted Vette said.
Douglas said they were still smarting after what would have been the winning goal was disallowed by the umpires just seconds earlier.
The officials decided that the ball was deflected into the net off the body of a Maungakaramea player, and not the stick as Old Girls claimed, and instead awarded the decisive penalty corner.
"When he disallowed that goal, we were fired up and it made us even more determined to win," Douglas said.
The match was a thriller, featuring end to end action with Maungakaramea finishing regular time the stronger and they carried that through to the first period of extra time.
Douglas scored the only goal of the first half from a penalty corner but Maungakaramea equalised through Ella Gunson, just 10 minutes into the second spell. Samantha Polovnikoff finished off one of her trademark fast breaks with a great shot to put Old Girls ahead for the second time before Jane Thompson drew Maungakaramea level again.
When the teams were reduced to seven players for the second period of extra time Old Girls took over the game. They dominated possession and piled pressure on their opponents.
"Before that last period of extra time we talked about holding on to the ball and it did actually work," Vette said.
She was full of admiration for Maungakaramea, who showed great heart to come back twice.
"They put intense pressure on us throughout the whole game, and they didn't let up until right at the end, so it could have gone either way," she said.
"It was a big team effort by all of our team, all 16 of us and all the support staff, in the end we needed them all and they all did their jobs," Douglas said.