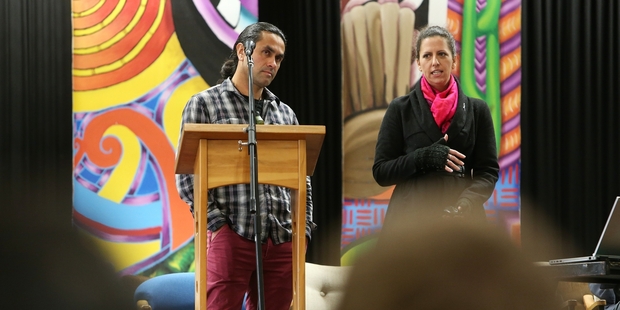 Whangarei anti-domestic violence campaigner John McGrath called on Whangarei Boys' High students to help stamp out abuse at a ceremony to celebrate his appointment as a new ambassador for White Ribbon.
Mr McGrath, whose sister Patricia Ann McGrath was killed in a highly public case of domestic violence in January last year, urged students to rise up against domestic violence at yesterday's ceremony.
"[My family has] been put on this journey whether we like it or not, and we want you to join us on the journey to stamp out domestic violence. We are counting on you young men to be the change," he said.
Phillip Andre Mahanga, 33, was sentenced to three years' jail in July last year for the manslaughter of 34-year-old mother-of-two Patricia, who was known as Wowo.
Mr McGrath joined the anti-domestic violence movement only days after his sister's death by leading a march through Whangarei.
He and his wife Kate also helped make a 27-minute documentary with the message that domestic violence must be stopped and the importance of speaking out about it. His wife had been an integral part of the family speaking out, he said.
"Even though it was my youngest sister, both of us feel the obligation to tell the story," Mr McGrath said.
"Domestic violence is not a women's issue - it's everyone's issue," Mrs McGrath said.
"We want others to make changes in their lives before any irreparable damage is done, like experienced by our family. If we want the world to change, and make it a better place for generations to come, we need to start at home. We are society and that means we can change society."
Mr McGrath joins more than 60 White Ribbon Ambassadors including sports stars, community leaders, judges, entertainers, social workers and activists. White Ribbon is an international campaign that asks men to show they won't tolerate or remain silent about violence towards women. It originated as a men's movement in Canada and is now part of the United Nations' annual calendar.
The campaign is organised by the White Ribbon Campaign Trust and focuses on the entire month of November, culminating on November 25 - White Ribbon Day.