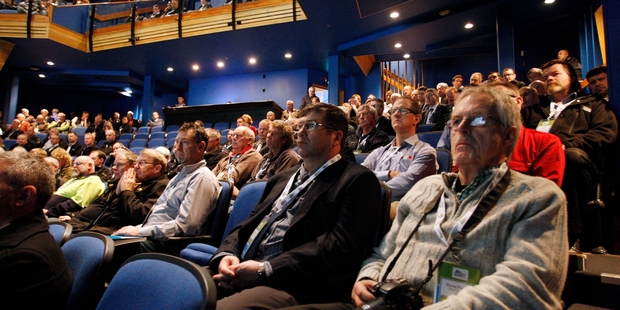 Quarry operators from around the country have had a blast in Whangarei.
About 350 delegates, their partners and exhibitors booked out the city's accommodation to attend the three-day joint conference of the Institute of Quarrying and the Aggregate and Quarry Association which ends today. And even larger conferences could benefit Whangarei financially if the city had facilities to deal with bigger groups of visitors.
The quarrying conference began on Wednesday with the opening of an exhibition of quarry equipment suppliers and annual meetings of the two organisations at Forum North before they attended dinner at the ASB Stadium in Kensington.
Speakers addressed delegates at Forum North yesterday morning with Energy, Resources and Labour Minister Simon Bridges emphasising the importance of quarrying, which last year produced 34 million tonnes of rock used for roading, building and other purposes.
In the afternoon about 225 quarry operators admired 50-tonne diggers, dump trucks and loaders displayed at Dicksons Quarry in Glenbervie and watched as explosives brought tonnes of rock down from the quarry face.
Northland Quarrying Institute chairman Murray Smith, of Kamo, said the region had several quarries producing top-grade rock, but variable soils made road construction an engineering challenge.
Northland Chamber of Commerce CEO Tony Collins said conferences brought cash into the city and if Whangarei had the infrastructure it could attract more of them.
While Forum North had a theatre and exhibition rooms suitable for the quarrying conference, there were constraints on using the ASB Stadium as a dinner venue for 350 people.
Whangarei needed good roads to bring visitors into the region, quality accommodation and a good place for conferences, ideally a fit-for-purpose venue able to seat 500 for dinner.
An international conference centre planned in Auckland would be able to seat up to 3000 and Northland would be vying with the Waikato and Bay of Plenty for mini conferences spinning off Auckland events.
Providing attractions for delegates' partners was a key factor in luring conferences north, Mr Collins said.