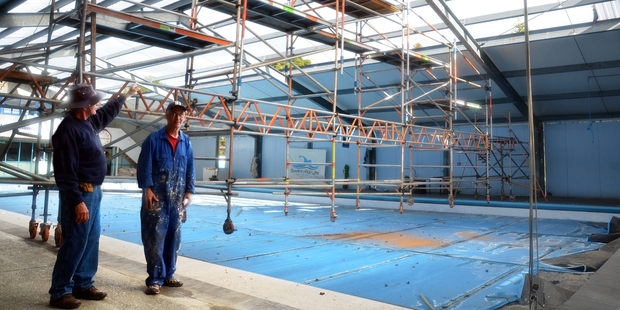 The future of Kawakawa's indoor pool has been secured by a group of volunteers who spent 10 days of their own time repairing the roof.
The crew painted and rust-treated the roof, renewed the guttering and replaced the clear panels. They also installed a wind-operated ventilation system to suck out the fog and chlorine fumes, which project leader Richard Duley said had already made a big difference.
"It went really well. We had four to five guys plus a crew from Ngawha [prison] every day," he said.
"It's no exaggeration to say that with a sound, long-lasting structure over the pool, their work has saved this facility from the threat of closure. Our community owes a huge thank you to these selfless people."
Suppliers had offered good deals on materials and Kawakawa businesses had provided food each day for the workers.
A Corrections spokeswoman said about nine inmates, plus a prison officer, had been working at the pool five days a week for the past six weeks.
They had stripped the old paint and were now repainting the building's exterior.
The prisoners had been through painting and decorating instruction and were putting their new skills to practical use, she said.
The community-driven revamp was prompted by a report commissioned last year by the Far North District Council following public calls for new pools in Kaitaia and Kerikeri.
The report recommended upgrading the existing pool in Kaitaia, building a new complex in Kerikeri, and closing the ageing facility in Kawakawa.
The council has distanced itself from the report and Mr Duley said the roof repairs, and the fact the council had put money into the project, meant the pool's future was now secure.
The council contributed funding originally set aside for a revamp of changing rooms but had got a lot more for its money.
"So it's a win-win for everybody," Mr Duley said.
The next stage of the project would be to enhance the pool's appearance with an outdoor picnic area, artwork, and possibly a rooftop sculpture.
Kawakawa's 25m pool is operated by the Kaitaia-based Community Business and Environment Centre. It is part of the ASB Recreation Centre on Bay of Islands College grounds in Derrick Rd. It is the only public indoor heated pool in the Bay.
Anyone who wants to help can call Mr Duley on (09) 404 0043.
Meanwhile, a public meeting is being held in Kerikeri on June 12 to discuss community plans for a new pool. The meeting will start at 7pm at the Turner Centre.