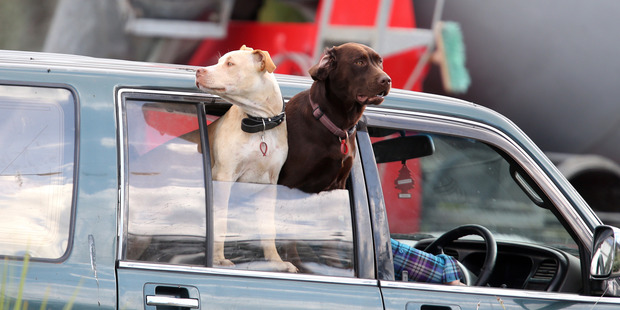 Man's best friend could become a killer missile in a traffic crash with unrestrained canine companions a massive, and potentially deadly, distraction in vehicles, Northland police say.
The focus of Road Safety Week is targeting distracted drivers with the primary focus calling on drivers to turn off their cellphones.
However, an hour-long sting by the Northern Advocate at the intersection of Hatea and Riverside Drives, at the bottom of Firebrigade Hill, revealed 10 unrestrained dogs in vehicles.
The pooches were seen hanging out windows, sitting in back seats and bracing themselves on the dashboard of the passenger's seat to get their head out the window.
There were two drivers spotted talking on mobiles and another three texting with phones on their laps.
Many more drivers were seen eating, drinking and smoking while negotiating the busy intersection.
According to Ministry of Transport statistics, distraction is a factor in about 10 per cent of fatal and serious injury crashes.
Northland's top traffic officer, Inspector Murray Hodson, said dogs were like any other unrestrained object in a vehicle. If forced to stop suddenly, the dogs became a missile.
"It's extremely dangerous," he said.
While there was not a specific charge relating to unrestrained animals in vehicles, if there was a crash and the cause could be attributed to the animal, the driver could face a charge of careless driving. Police could also consider charges of an insecure load.
As part of Road Safety Week there would be check points across Northland with police encouraging drivers to turn off their cellphones.
Mr Hodson said research showed drivers using phones had slow reaction times, difficulty controlling speed and lane position, with those talking on phones four times more likely to be in a crash that causes injury.
But he said it was text messaging that was even more dangerous with drivers completely taking their attention off the road.
"The good drivers who obey the laws do not deserve to be a victim of high-risk drivers using devices that distract them from driving," Mr Hodson said.
"It takes just a moment of inattention that could cause a catastrophic event."
While distraction was the focus of the week speed was still the biggest factor in serious injury and fatal crashed in Northland.
Northland's road toll stands at six. Speed was a factor in three of the fatal crashes, Mr Hodson said.