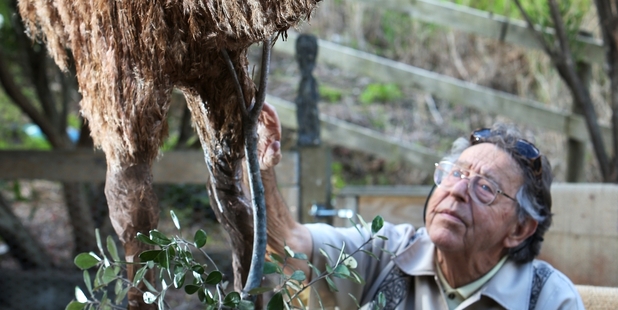 Jim Pryor is looking for a new home for his bird - a metre-tall moa.
The 84-year-old Reotahi resident spent three months combining the stockings, muttoncloth, steel, wood, modelling clay and lashings of No8 wire to make the sculpture, as well as hours meticulously dyeing and gluing hundreds of small snippets of toetoe for its feathers.
Now he is looking for a school or community group in Whangarei who would like the replica of a half-grown giant moa.
"I'd like to find a home for it, like in the foyer of a college," he said.
The former principal of Kereone School in Morrinsville was inspired to create the sculpture after getting his students to create papier-mache moa over 40 years ago.
"I remember saying, 'I don't know what to use for feathers', and my 7-year-old daughter Annie said, 'use toe toe'," Mr Pryor said.
Sculpting talent runs in the family. Mr Pryor's other daughter is Dell Pryor, a renowned New Zealand artist whose resume boasts sculpting Sir Robert Muldoon.
"[Dell] likes my moa sculpture," Mr Pryor said. "She even helped me with one of the feet."
The feet are constructed from wood, the legs from stockings and clay, and the body is made of a steel structure that Mr Pryor welded together himself.
Inside the body of the moa, he has stored a few knick-knacks - "just for fun" - including toy eggs, which turn into toy chickens when they get wet.
"There's all sorts of weird things in its belly, it's almost a bit of a time capsule," he said.
The eyes are glass marbles, and the feathers are made from toetoe that has been cut, dyed andglued on carefully.
"I just got the urge to do something in the arty line and I thought I could do another moa. I just love making things, I'm happiest when I'm doing something like that," he said.
Schools or community groups who are interested in having the moa should contact Mr Pryor on (09) 434 0021.