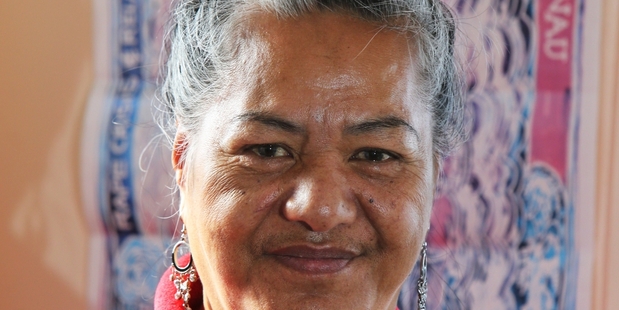 National Rape Awareness Week, which started on Monday, has the slogan "Break the Silence". Hariata Riwhi-Te Pahi talks with Advocate writer Lindy Laird about how that silence shaped her life. Both woman are volunteers with the Whangarei Rape Crisis collective.

VEIL OF TEARS
Behind Hariata Riwhi-Te Pahi's veil of tears sits the beautiful young woman she once was.
For years Hariata blamed herself for the brutal rape that sent her careening into a spiral of self-hatred, self-abuse and danger.
She choked in its silent grip for 35 years until she found the strength to name it - five years ago, when she walked into the Whangarei Rape Crisis centre and asked for help.
"Until I found my voice," she says. "Coming to the crisis centre was scary. I couldn't get past the word 'rape' ... I couldn't even say it before.
"I have no problem now standing up and saying I'm a survivor of rape. The rape is back in its own place, back where it belongs. I'm not in denial anymore, and it can't touch me again."
Despite her familiarity with the surroundings and the fact she is now part of the backbone of the centre that helps other rape victims, that voice she bravely reclaimed wavers at times, and tears she thought were gone flow anew. You can heal, but you can still hurt.
In softly spoken words, and across a lifetime of sadness, the woman now in her 50s sends a message of love to her teenage self.
"It was not my fault, what happened to me. It was never my fault."
HER STORY
"When I was 17, at that time I was living with my boyfriend in Wellington. We had an argument and I just packed up my stuff in a bag and walked.
"I ended up in the city somewhere, alone, with nowhere to go, and just full of grief.
"I ended up in this hotel. I think I had walked around all day because it was dark by then. I sat by myself and had a drink, I had a few drinks. I tried to drown how I was feeling but I wasn't drunk.
"I was aware of what was going on and how I was in myself.
"I left the hotel to head back to where my boyfriend stayed. When I crossed the hotel carpark an old fellow asked me what I was doing there on my own. He seemed very genuine and caring. He offered me a lift and I believed he was taking me home.
"We ended up in a paddock, an open place, still close to town.
"He forced me into the back of his station wagon ... and that's where he raped me.
"I screamed for help and cried out for him not to hurt me but he raped me several times over many hours. At times I think I blacked out."
At sunrise he said he'd take her home. She was naked from the waist down but her attacker would not let her dress.
He chucked her out by the Wellington Post Office, throwing her clothes after her. Crying, Hariata grabbed her clothes and scrambled to hide in nearby bushes.
Help came in the form of a person of the night, a transvestite who took her home to a house shared with other transvestites. They looked after the traumatised Maori girl from Whangarei for a few days until she was able to get herself back home.
But the Hariata who returned to parents and an extended family who'd given her a childhood rich in love, security and tikanga Maori was not the same happy, trusting teenager who had gone off to Wellington.
THE SPIRAL
"I lost my self-esteem. I got into the drink, into the drugs, I mixed with people I shouldn't have. I stayed home and began to eat too much. I started to get fat. I didn't want to look nice, to get any positive attention from anyone.
"I blamed myself for what had happened. I shouldn't have gone into that hotel. I shouldn't have got into that car. I did wrong.
"I hated myself, I wanted to hurt myself. I put myself at risk. I sabotaged my life.
"My mother noticed but as far as she was concerned I was just being a wild child. She kept me close.
"She even let me sleep in her bed when I couldn't sleep or had terrible nightmares, but still I didn't have the courage to tell her."
Hariata still grieves over keeping the thing that had changed her a secret from her mum and dad.
"But it had destroyed everything that I believed in. I had been full of love for people, loved in return and confident in myself."
She'd grown up in a culture where elders were respected and protective. It never occurred to her that an older man - anyone - could be unsafe.
It may have been trust that saw a frightened girl in a strange city get into a car with a man who was able to destroy her faith in people, but it was the cloak of her people's culture that protected her during the worst times. It was then and is still her anchor: "No one can take that away from me."
Hariata eventually married and had four daughters, but didn't exactly settle down into quiet domesticity.
"Unbeknown to me, I was still being triggered in so many ways - sleepless nights, worrying about and watching over my daughters, being aware of cycles of abuse, being trapped in self-hatred and allowing abuse in my life.
"I was still in denial of what had happened to me.
"My family didn't validate how I was feeling about myself but they didn't know how to help me either."
BEGINNING AGAIN
"I was 52 when I came in here to get help for myself, to actually do something. I'd had enough of beating myself up. Coming here changed my life and gave me a new beginning.
"Now I understand why I had behaved the way I did, and it enabled me to tell myself, 'it was never your fault'.
"There's no quick fix for any woman who has been raped but it's so important to have people who are experienced to help her take back her own power, to have herself back."
The majority of sex offences never get reported but Whangarei Rape Crisis helps hundreds of women and families each year - the tip of the iceberg.
Most are seeking help for the first time for historic incidents; many others are coping with something that happened to a woman or child close to them, perhaps a daughter.
They are offered counselling and other support, including having a rape crisis worker stand with them through police, medical or court procedures if that is the path they choose.
It's a service largely offered by the trained volunteers who are Whangarei Rape Crisis collective members. Not all have been sexually abused or work directly with the clients, but all are committed to seeing strong messages in communities and good education reinforcing that "no means no" in any circumstances, regarding any unwanted touching or act.
Hariata came to the crisis centre for counselling first, then took part in a self-empowerment course.
She joined Wahine Kotahi Kia Kaha Kia Tu, the centre's Maori women's group, did the volunteer training and became a collective member.
"Now I am the Maori cultural adviser here and a national Women Rape Crisis cultural adviser. I co-facilitate Wahine Kotahi Kia Kaha Kia Tu, and I am also out in the community running education in schools and facilitating workshops such as for the Probation Service."
During her journey she has helped hundreds of other women find their way back to truth, self belief and healing.
But she kept silent for nearly 40 years, and since then has been part of a collective that at its core works in confidentiality and doesn't have a high public profile - despite its vital community role.
She says no to the chance to remain anonymous in this article.
"Look at the years I spent hiding the truth away and the impact it had on my life," Hariata Riwhi-Te Pahi says.
"I found my voice. Maybe it's time to put a face to my words. It might help set some other women free."