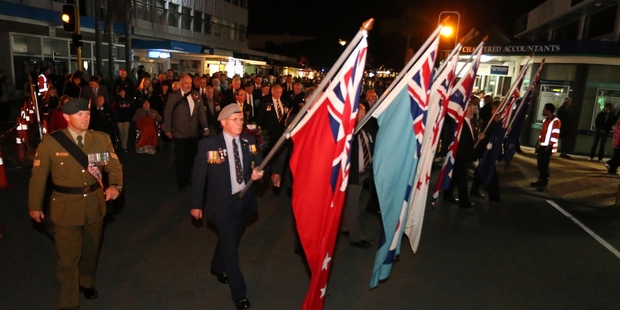 Additional crosses to the Field of Remembrance in central Whangarei, coupled with an ever-increasing crowd, provided the perfect environment at the dawn service in Laurie Hall Park.
An estimated 6000 people turned up as early as 5.30am yesterday to vow "we will remember them" in the Anzac spirit after a contingent of ex-servicemen, members of the armed forces and students marched from Rust Ave to the park.
Young and old took up vantage points around the park, and along Bank St and Dent St overlooking the Field of Remembrance where wreaths were laid in memory of 610 men who never returned from war.
Whangarei RSA Trust chairman Archie Dixon told the gathering that a search of the then Borough Council revealed an additional 110 names that would be added to the World War I memorial.
The names of 40 men from Whangarei who fought in World War I but have not been named in any memorials, were read out during the service.
The crowd was reminded that they've gathered not to glorify war but to acknowledge the sacrifices made by locals that would never be forgotten.
The president and vice-president of the Whangarei RSA were the first to lay wreaths, followed by mayor Sheryl Mai, National MP Phil Heatley, Labour Party representatives, members of the armed forces and others.