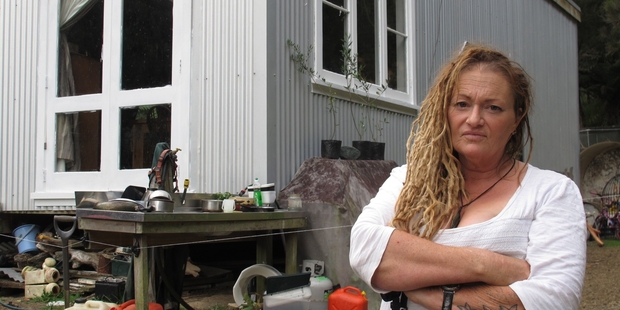 Life is about to get a lot better for a Northland woman who lives in a cold shed without a toilet, power or running water.
A front-page Advocate story on April 12 highlighted the plight of Helyn Tavita, who was forced to sell her home in Kaeo for half its value after it was left uninhabitable by floods in 2007.
She used what money she had left to build a shed on a section at Whangaroa, not expecting to end up looking after her 5-year-old special-needs granddaughter.
Her toilet is a bucket which she empties in a pit in the bush while her water comes from a single, spring-fed outdoor tap. Power comes from a generator which costs $70 a week to run.
Since the story was published, however, housing charity Habitat for Humanity has been contacted by several Northland businesses and individuals offering to donate cash and materials.
Habitat for Humanity Northland executive director Conrad LaPointe said the charity, through its Brush with Kindness programme, had been planning to install a solar power system to give Ms Tavita a sustainable source of electricity and spare her the cost of running a generator.
Now, thanks to a "very good" public response, the charity would also be able to fully insulate her shed and build a toilet and bathroom.
He wanted the work to start as soon as possible, before winter set in. He was looking for a suitable builder from the Kaeo area.
Ms Tavita said she was "absolutely amazed" by the response.
"I've been here for seven years, I'm not the sort of person that asks for help. I've always been able to look after myself. It's going to make an amazing difference. I just can't believe how generous some people are."
She was also grateful to the school social worker who first contacted Habitat and started the ball rolling.
Meanwhile, Mr LaPointe said Ms Tavita was far from alone. He estimated up to 7000 Northland families lived in homes needing essential maintenance or repairs.
Habitat for Humanity was helping several other families who lived in unsuitable dwellings or were struggling to pay for vital repairs to their homes.
Northlanders in serious need of housing help can contact Habitat for Humanity on northland@habitat.org.nz or (09) 438 2250. Anyone who wants to support the charity's work can donate second-hand goods to ReStore in Kioreroa Rd, Whangarei.