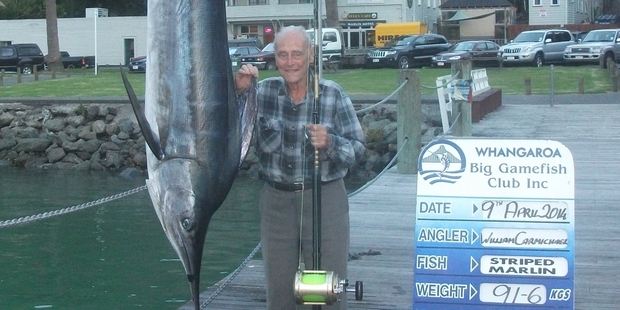 Wally Carmichael won't be getting any prizes for the size of the marlin he hooked off the Far North's east coast.
But if there was a prize for oldest angler, or for matching your age in years to the weight of your catch, Mr Carmichael would be a shoe-in for the trophy.
The Dargaville man, now living at Waihi Beach, was fishing with his son off Doubtless Bay last week when he hooked a striped marlin, battling the fish for 35 minutes before hauling it aboard. When weighed in at Whangaroa Sport Fishing Club his catch turned out to be a respectable 91.6kg.
That might not seem such a big deal, until you realise Mr Carmichael is 91 years and 6 months old.
Skipper Rob Obren, of Opua, said Mr Carmichael was easily the oldest angler he'd taken out in his 20-odd years as a charter boat operator. It was also his best age-for-weight match.
He hooked the marlin in "a nice little hotspot" in 135m of water off Berghan Pt and did well to bring it in.
"It was a feisty fish, It did a lot of jumping around at the back of the boat. He's a good angler."
Mr Carmichael's son Adrian, now based in Western Australia, had shouted a trip aboard the boat Monterey for a bit of fishing, male bonding and reminiscing about the catches of his youth.
The 91-year-old said it was his second marlin. He landed his first, a 127kg blue, off Perth when he was a mere 70 years old. "That was when I was a young chap," he said.
Mr Carmichael said he was keen for another go next summer, possibly out of Tauranga. He was born in Auckland, but lived in Dargaville from 1944-83, where he worked as a welder, builder and milkman. He is perhaps best remembered as the owner of Lynn's Dairy on Victoria St.
Father and son ended the five-day holiday by returning to the favourite fishing spots of Mr Carmichael's youth.
Still etched in his memory is the day many years ago he caught a 22-pound (10kg) snapper just outside Motukokako Island's Cathedral Cave, next to the Hole in the Rock.