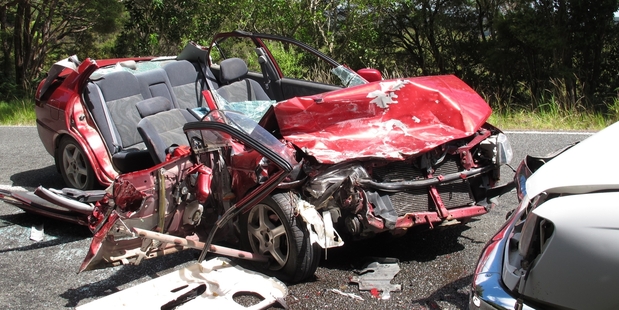 A Far North father has been charged with drink-driving causing injury after a crash which left his five-year-old daughter with critical head injuries.
Billy Atawhaipono Herewini was driving with his five-year-old twins on the afternoon on January 8 when he rounded a bend of Russell-Whakapara Rd on the wrong side of the road, colliding with an oncoming ute.
Herewini broke both legs and had to be cut from the wreckage by volunteers of the Russell Fire Brigade. The driver of the ute and the boy twin were also injured but not seriously.
Herewini's daughter, however, suffered severe head injuries. A young Tutukaka woman, the first person to arrive at the scene, found the girl was not breathing. She placed the child in the recovery position and cleared her airways, prompting her to start breathing again.
The child was airlifted by the Northland Electricity Rescue Helicopter to Auckland's Starship Hospital, where she remained in the paediatric intensive care unit for several weeks.
At the scene Herewini and a witness gave conflicting accounts as to whether the girl had been buckled in.
The Advocate saw two near-empty bottles of spirits in the front seat of the Mitsubishi Lancer.
The twins normally live with their mother in Kaitaia but had been visiting Herewini in Waitangi.
The 45-year-old was remanded on bail when he appeared in the Kaikohe District Court last week charged with three counts of drink-driving causing injury. He is due back in court on April 16.
A hospital test revealed he had 122 milligrams of alcohol per 100 millilitres of blood. The legal limit is 80mg. Herewini has at least two previous convictions for drink-driving.
The maximum penalty for drink-driving causing injury is five years' jail.
Police praised the young Tutukaka woman, saying her cool head and quick actions may have saved the girl's life.
The injured child's grandmother put out a call through this newspaper to find the ''angel'' who had given the girl a chance of survival, so the family could thank her in person.
Whangarei Girls' High student Anna Goodman, 16, was identified as the rescuer. Having grown up in the Australian outback with nursing parents she was well versed in emergency first aid.