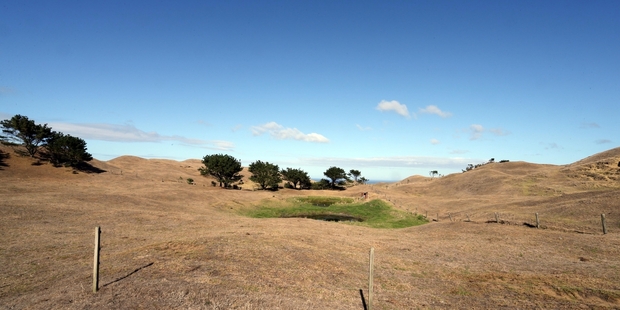 Most of Northland's west coast from Cape Reinga to Pouto Pt has been classified a localised drought area under government regulations for a small-scale adverse climatic event.
The classification covers an estimated 400 Northland dairy farms and 700 sheep and beef units.
Localised adverse events are announced through councils and the west coast as far south as Helensville was classified at a meeting in Whangarei on Tuesday of local and central government officials and farming organisations.
Primary Industries Minister Nathan Guy said yesterday as the dry conditions in Northland were localised they didn't meet criteria for the government to declare a medium-scale adverse event. The meeting in Whangarei was called by the Northland Rural Support Trust (RST). The trust's co-ordinator, Julie Jonker, said the localised drought classification did not mean handouts, and nor were farmers asking for any.
The classification provides easier access to the Inland Revenue Department's (IRD) adverse events income equalisation deposit scheme. Depending on the circumstances the IRD can consider late payment and late filing of tax without penalty.
Business owners in the affected area also gain the ability to negotiate and invoke contract provisions under "force majeure", which Ms Jonker said provided leeway when a person could not fulfill a contract because of circumstances beyond their control, such as a drought.
This could apply to graziers, contract and percentage sharemilkers and sale and purchase agreements, she said.
"The classification also means access to assistance from the RST to provide one-on-one help when the situation becomes too difficult to see a way forward," Ms Jonker said.
The Northland RST is encouraging farmers on the wetter east coast to ring 0800 787 254 if they can offer grazing.
Colin Hadlow, who is spending $100,000 a month buying feed for the 700 cattle on his coastal 400ha dairy farm south-west of Dargaville, couldn't see the classification being much practical use to him.
"It helps the bureaucrats to acknowledge something is happening," he said.
His autumn calving was under way with 21 calves born already and 30 more imminent. A poor crop of maize had been harvested and he was considering undersowing before it got too cold for grass to germinate.
"We just have to soldier on and wait for rain," Mr Hadlow said.
Northland Beef + Lamb NZ's Andrew Jolly said that while support for rural families was not conditional on the drought declaration it would give much-needed moral support.
Farmers of New Zealand operations director Bill Guest welcomed the localised drought classification, saying that while it may not offer much financial relief "every little bit helps".
If wasn't for the record $8.65 kgMS Fonterra payout forecast west coast dairy farming would be a disaster, he said.
"A huge amount of rain is needed to correct this serious situation," Mr Guest said.
The downpour is not on the horizon. The MetService 10-day forecast for Dargaville predicts fine, partly cloudy weather with no rain and temperatures up to 22C until April 4.