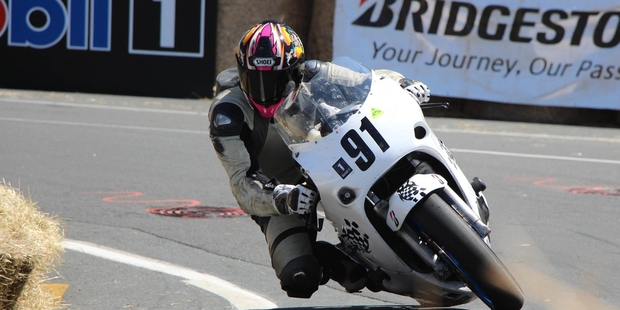 Whangarei motorcycle racer Duncan Coutts has finished the season on a high, winning the senior title in the New Zealand Post Classics championship.
Coutts needed to finish at least second in the final round at Hampton Downs raceway held in trying weather conditions last weekend.
His main rival, Eddie Kattenberg of Napier, won all three races at the last round but came up one point short for the title.
"I tried to win the races but made poor starts and ended up nearly overcooking it," said Coutts.
"Early in the first race I ran off the track into the gravel trap and by the time I got back on track I was down in sixth place.
"The rest of that race was spent chasing down the field and I only snuck into second place on the last corner," he said.
Race two was held after a heavy shower and riders had to choose between going out on slick or wet tyres on a quickly drying track.
"I made a mistake and went out on full wets and found the whole track dry after one lap. This made it really difficult as I was sliding a lot on my soft tyres while the guy in third place was on road tyres and all over me.
"Eddie made the right choice to go on slicks and he was long gone. I managed to hold on and got the second place but it wasn't pretty."
The third race was dry and despite setting the quickest lap times for the day, Coutts was again pipped by Kattenberg despite a close duel.
The series was held over six rounds at both Hampton Downs and Manfeild racetracks.
"It's still really satisfying to get the number one plate as it's been a long season and both Eddie and myself have had a few mechanical issues. However I got the results when it mattered," said Coutts.
Coutts also captured the Suzuki Tri-Series title in December by just one point and won the post classic class at Paeroa in February.