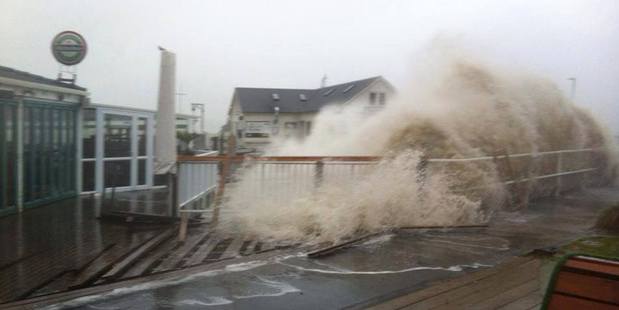 At least three businesses on Paihia's waterfront that were doused with seawater during the weekend's storm will be closed for days to allow for a clean-up.
Firefighters were forced to close a stretch of State Highway 11 that runs past central Paihia on Saturday morning as high swells pushed seawater on to the road and into adjacent cafes and restaurants.
Paihia fire chief Shane Schrafft said the businesses would be shut for a few days to enable their premises to be cleaned.
"There was very little rain but the swells out at sea meant tides were pushed across the road so we've had close that road and divert traffic flow," he said.
Mr Schrafft said business owners of properties contaminated by sea water were aware of the weather conditions and in future, they could be better prepared.
"They could take note of advice and put up sand bags. We do get weather warnings early from civil defence so people must take steps sooner rather than later.
"Similarly boat owners should move their boats to a safe place. Two boats - a yacht and another a launch - ended up on the beach damaged and there's nothing we can do in that situation."
He said the road on Paihia's waterfront was closed until about midday on Saturday and then from 6pm that day to 10am yesterday.
Officials from Land Transport Agency were expected at the site yesterday to inspect the road and to assess any damage.
Mr Schrafft said his brigade went to six callouts during the storm.
His crews were helped by a team from East Coast Bays in Auckland.
Business Paihia chairman Chester Rendell said shops situated over the water were the worst affected.
"There were broken windows and the like and the damage was mostly from the wind and the sea as opposed to rain.
"In fact we've had very little rain. The impact from the cyclone wasn't as great as we'd expected," he said.
Meanwhile, two boats also ran into trouble in Mangonui on Saturday.
Fire chief Peter Sainsbury said one yacht went on the rocks on Mill Bay while another broke its mooring.
Coastguard managed to secure the mooring for one boat before it was moved to a safe location.
Maximum wind speeds of 120km/h were recorded in Cape Reinga at 7am on Saturday, Purerua 83 km/h, Whangarei 79km/h and Kaikohe 72km/h.
The depression had moved to the South Island yesterday morning.