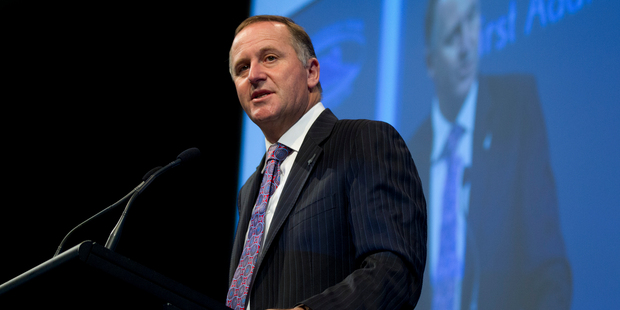 A Far North environmentalist has challenged the Prime Minister to take a swim in toxic waste.
Dean Baigent-Mercer, chairman of the Far North branch of Forest and Bird, issued the invitation because of "John Key's belittling attitude to people opposing toxic mining in Northland".
In response to the 70-person hikoi from Cape Reinga to Waitangi protesting over offshore oil drilling and mining in Northland, Mr Key said the protesters had "been fed misinformation" about the threats to Northland.
He said Waitangi, and other protesters who may be expressing historical grievances, were "a bit sad", and accused them of wanting "to make a lot of noise while the camera's on".
Mr Key said he had heard about the hikoi's concerns from a spokesman, Joel Bristow, while inside the Te Tii meeting house on Wednesday.
"A lot of the comments were just ill-informed or wrong," Mr Key later said.
"The comments I made in rebuttal were 'come to Wellington, spend a week with my ministers. If, at the end of that week, you're proved to be right in the assertions you're making, I'll join your protest but, if you're proved to be wrong, go back and tell the protesters'."
But hikoi participants declined Mr Key's invitation to Wellington, instead inviting him back to Northland.
Mr Baigent-Mercer said the Government was not prepared to listen and was merely repeating the public relations lines of mining and oil companies.
Hikoi participants declined Mr Key's call to Wellington and instead issued their own invitation.
"We challenge John Key and Northland's MP Mike Sabin to swim for half an hour in the lakes of 40 million tonnes of toxic waste from Waihi's gold mine. Then, on returning to Northland, address a public meeting to hear how the experience has influenced their thinking," Mr Baigent-Mercer said.
"We have been very clear that we do not oppose all mining, but toxic hard rock mining that creates toxic waste."
Puhipuhi, all of Russell State Forest and parts of Whangaroa have mineral exploration permits over them.
"All the Northland target areas are flood-prone and we do not believe removing gold and leaving toxic waste is a responsible thing to do or that the Government is taking this seriously enough," Mr Baigent-Mercer said.
Eighteen tonnes of a toxic waste mix that could include mercury, cadmium and arsenic is produced for one gold ring using hard rock mining techniques.